Total U.S. Jobs +313,000 in February; Construction and Manufacturing Combine for +92,000
In February, the U.S. recorded its biggest month-to-month jump in total employment in more than a year-and-a-half, according to the latest Employment Situation report from the Bureau of Labor Statistics (BLS).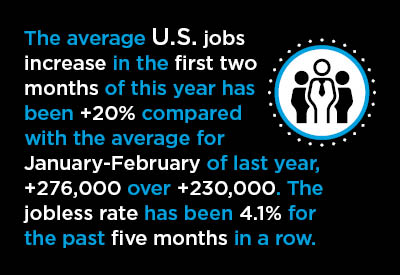 A monthly net increase in jobs of +170,000 is acceptable; +200,000 is good; +300,000 is outstanding. February's number was +313,000. (The last time a better result was achieved occurred in July 2016, at +325,000 jobs.)
The average jobs increase in the first two months of this year has been +20% compared with the average for January-February of last year, +276,000 over +230,000.
Because more people returned to the labor force and the participation rate climbed from 62.7% to 63.0% between January and February, the unemployment rate stayed at 4.1%. The jobless rate has been 4.1% for the past five months in a row, dating back to October 2017.
Increasingly, the words 'at full employment' are being applied to the U.S. labor market. Since the turn of the century, there has been only one year in which the unemployment rate was lower – and only by a slight margin − than now. In 2000, the jobless rate was at its tightest in April, at 3.8%, but it also managed a consistent level of 3.9% from September through December.
The breakdown of the +313,000 jobs in February is interesting. An increase in private services-providing work, while healthy at +187,000, wasn't quite as dominant as usual. Goods-producing industries, at +100,000, chipped in more than their normal proportion of the total.
The goods-producing tally of +100,000 was comprised of +8,000 from mining; +61,000 from construction; and +31,000 from manufacturing. Note that the construction and manufacturing industries combined to raise staffing by +92,000.
In manufacturing, all the +31,000-gain was in durable-goods production, with 'transportation equipment at +8,000.
'Goods' industries at +100,000 and 'services' industries at +187,000 still leaves +26,000 to be explained out of the total increase of +313,000. The final surprise contributor was government, and it was neither at the federal level (-7,000) nor the state level (only +2,000). Rather, it was thanks to local government hiring, +31,000 relating mainly to the provision of educational services (+27,000).
Construction's not seasonally adjusted unemployment rate in February was 7.8% (NSA). A year ago, it had been 8.8%. The NSA number is always elevated early in winter when on-site activity in parts of the country is often slowed or shelved due to blinding snow storms or extreme cold.
On a 'warmer' topic, if +3.0% or more year-over-year marks when wages are heating up, then construction has crossed over into that territory.
For all construction workers including supervisory personnel, average hourly wages were +3.3% y/y in February (up from +2.9% in January) and average weekly wages were +3.6% y/y (up from +2.6% in January).
For strictly 'production and non-supervisory' employees in construction, average hourly earnings were +3.7% y/y and average weekly earnings were +4.0%. In January, the comparable figures had been +3.0% and +3.3%.
For all jobs in the economy, both including and not including bosses, the increases were less than for construction, but they were spirited nonetheless: +2.6% y/y hourly and +2.9% y/y weekly including bosses and +2.5% y/y hourly and +3.1% y/y weekly not including bosses.
Construction's year-over-year increase in jobs in February was +3.7%. In three other categories of employment with close ties to construction, the year-over-year changes were: 'architectural and engineering services', +3.3%; 'real estate', +1.7%; and 'building material and garden supply stores', +3.9%;
Other sectors with large nominal increases in employment in February were: 'retail trade', +50,000 jobs; 'professional and business services', also +50,000; 'financial activities', +28,000; and 'education and health services', +23,000.
The hiring pickups in 'leisure and hospitality' and 'transportation and warehousing', at +16,000 and +15,000, were relatively modest. 'Information services' was the only major sector to shed jobs, -12,000.
On Heels of -88,000 Jobs in January, Canada +16,000 in February
North of the border, Statistics Canada's Labour Force Survey results for February were lackluster, +16,000 jobs month to month. The minor improvement was good to see, however, after January's disappointing performance of -88,000 jobs.
Canada's unemployment rate in the latest month improved a tiny bit, to 5.8% from 5.9% the month before.
While manufacturing employment in Canada in February took a step backwards, -17,000 jobs, the number of positions at construction sites stayed the same as in January.
Comparing y/y percentage changes, Canada is now trailing the U.S. in total employment, +1.5% to +1.6%, and in construction, +3.3% to +3.7%, but is out front in manufacturing, +4.2% to +1.8%.
Among sectors, Canada's fastest y/y employment growth was in 'transportation and warehousing' in February, at +5.1%.
Regionally, B.C. retained its first-place ranking for lowest unemployment rate among the provinces in the latest month, 4.7%. Ontario was next in line at 5.5%, followed by Saskatchewan and Quebec, both at 5.6%.
While Ontario (+114,000) and Quebec (+74,000) are leading the nation in y/y nominal jobs growth, it has been the latest-12-month surge in hiring in Alberta (+45,000) that has been most impressive. That province is emerging from a deep trench brought on several years ago by the notorious nose-dive in energy markets.