U.S. Up 200,000 while Canada Down 50,000 in August Jobs Reports
U.S. total employment rose by 201,000 jobs in August, according to the latest Employment Situation report from the Bureau of Labor Statistics (BLS).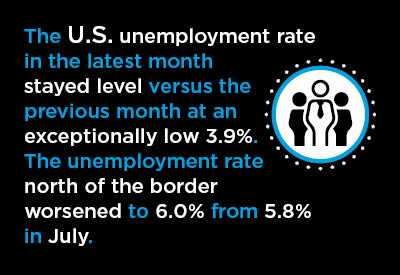 The average monthly gain in employment in America through the first eight months of this year has been +207,000, an increase of +9.4% compared with January-August 2017's comparable figure of +189,000.
The U.S. unemployment rate in the latest month stayed level versus the previous month at an exceptionally low 3.9%. A year ago, in August, the unemployment rate was 4.4%.
The U.S. employment landscape is about as idyllic as it can be. Certainly, there are some part-time workers who would prefer to be engaged full-time, but in the big scheme of things, that's a relatively minor quibble.
After a recession, the U.S. labor market shifts into better balance when the number of those seeking out-of-work insurance for the first time drops below 300,000. The initial jobless claims number has now been less than 300,000 for more than three straight years.
For the latest week, ending September 1, it nearly dove under 200,000. Its reading of 203,000 was the best in a half century.
Compared with the U.S., Canada's employment story so far this year has been a sadder tale.
For August, Statistics Canada's Labor Force Survey records a month-to-month performance of -51,000 jobs. Also, the unemployment rate north of the border worsened to 6.0% from 5.8% in July.
At least the present 6.0% jobless figure is a slight improvement over August 2017's 6.2%.
Average monthly employment growth in Canada to date this year has been 'nil'. Through the first eight months of last year, it was +30,000.
There's a small measure of comfort to be taken from the full-time versus part-time mix of employment change in Canada in August. The former was +40,000 while the latter was -91,000.
Full-time work is valued more highly by workers (and analysts) since it usually offers greater stability, comforting benefits and more lucrative compensation.
How did construction work fare in the two countries in August?
In the U.S., construction jobs climbed by +23,000 in August. Coincidentally, +23,000 has also been the average monthly pickup in construction jobs in America through the first two-thirds of this year.
In turn, +23,000 jobs on average this year has been a percentage gain of one-third (+33.6%) versus the +18,000 number that was achieved in the construction sector in January-August 2017.
In Canada, construction employment in August was -16,000 jobs. The year-to-date monthly average has been close to zero, but it was also essentially nonexistent in the same January-to-August period of 2017.
Construction employment in the U.S. at this time, expressed as a percent change, has been +4.3%. Canada's year-over-year construction jobs record has been a more restrained +1.0%.
What are some other highlights from the two reports?
In other industrial sectors besides construction, the U.S. registered strong hiring advances in 'professional and business services' and 'education and health' in August. Each took on +53,000 net staff members.
The net new placements number from U.S. manufacturers, though, was a disappointing -3,000 jobs.
Retail also turned in a weak jobs number in August (-5,000), as did 'information services', (-6,000).
All three levels of government – federal, state and local – made minimal adjustments to their payrolls in the latest month.
In the resource sector, one noteworthy development was the improvement in the unemployment rate in the 'mining, quarrying and oil and gas sector'. It dropped to only 1.9% in August from 3.4% in July and was also significantly better than August 2017's 4.5%.
For all workers in the U.S. economy, average hourly earnings were +2.9% year over year and average weekly earnings were +3.2% year over year in August. The construction worker subset did a little better at +3.3% hourly and +4.4% weekly.
For all workers in the U.S. economy excluding supervisors, year-over-year average hourly and weekly earnings were +2.8% and +3.4% respectively. Again, for the construction worker subset, the climbs were more rewarding, +3.3% and +4.4%.
But none of those foregoing percentage changes in compensation have yet reached the stage of setting off a claxon sound of alarm concerning inflation.
In year-over-year total jobs creation, Canada is presently trailing the U.S. +0.9% to +1.6%.
The disparity is worse in manufacturing, with Canada at -1.5% to America's +2.0%.
Among provinces, Ontario (+79,000) is still the jobs creation leader on a year-over-year basis. In second and third places are Alberta (+53,000) and Quebec (+20,000). B.C.'s level of employment is flat year over year.
With respect to month-to-month employment in August, however, Ontario suffered with a bad 'toothache', -80,000 jobs. In other words, Ontario bore the entire brunt of the nation's total jobs loss in the latest month.
Alberta (+16,000) and B.C. (+10,000) managed net jobs gains in August.
With respect to favorable (i.e., low) unemployment rates, B.C. (5.3%) is currently the provincial leader, but it's being challenged by Quebec (5.6%), Ontario (5.7%) and Manitoba (5.8%).