Increase in U.S. Construction Jobs Outpaces Last Year by 2x
The U.S. improvement in total jobs in June was a formidable +222,000, according to the latest Employment Situation report from the Bureau of Labor Statistics (BLS).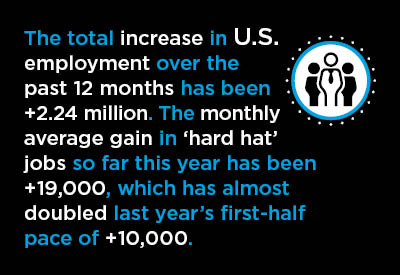 As an order of magnitude, June's level of hiring was second best among the six months of 2017 so far, beaten only by February (+232,000). Furthermore, the previously reported results for May and June have been revised higher by +47,000 and +33,000 respectively, for a combined +80,000 jobs.
Since onrushing time has now seen June give way to July, much of this article will be devoted to examining results through the first half of this year, compared with January through June of last year.
It's remarkable to note that seasonally adjusted (SA) monthly average U.S. job creation in the first six months of 2017 has been exactly the same as in the first six month of 2016, +180,000.
The total increase in U.S. employment over the past 12 months has been +2.24 million.
The increase in construction jobs in the standalone month of June was a decent-enough +16,000.
The monthly average gain in 'hard hat' jobs so far this year has been +19,000, which has almost doubled last year's first-half pace of +10,000.
Manufacturing's employment change in June was a measly +1,000 jobs. Year-to-date in 2017, manufacturers have added to payrolls by +9,000 per month on average. While +9,000 is okay, but not outstanding, at least it's better than last year, when production-line workers were being issued 'pink slips' at a rate of -2,000 per month.
U.S. private sector services-providing jobs rose by +162,000 in June. But the monthly average for services so far in 2017, at +135,000, has fallen behind last year's first six months' performance of +165,000.
Acting as a significant drag on 'services' has been the retail sector. Shopkeeper jobs may have stepped up by +8,000 in June, but on average this year they have been -6,000, whereas at the same time last year they were +25,000 per month.
Among all U.S. industrial sectors, 'education and health' was the strongest source of employment growth in this latest June, at +45,000. But it's a bit of a surprise to learn that the monthly average jobs jump in the academic and medical fields, at +38,000 to-date in 2017, has lagged January-to-June 2016's +48,000.
Demonstrating the wide-spread nature of the U.S. jobs improvement, three employer categories started signing substantially more pay checks to almost exactly the same degree in June: 'leisure and hospitality' (+36,000 jobs); 'professional and business services' (+35,000); and government (+35,000).
Lately, the pickups in public sector jobs have come at the state, and even more so at the local, levels rather than thanks to Washington.
U.S. government jobs so far this year have averaged +9,000 per month compared with +20,000 halfway through 2016.
Recruitment drives by personnel departments at 'leisure and hospitality' firms have signed up +30,000 new employees on average year-to-date in 2017. While +30,000 is impressive, it falls a little short of last year's +33,000.
One category that has really shone so far this year, however, has been 'professional and business services': +48,000 jobs per month on average January-to-June 2017 versus +33,000 on average over the first six months of 2016.
After a stellar +55,000-jobs gain in May, national employment in Canada jumped by another outsized figure in June, +45,000.
On average, Canada's total monthly employment rise through the mid-point of 2017 has been +31,000, far surpassing last year's +11,000 for the same period.
While the part-time versus full-time breakdown favored the former in the latest month, according to Statistics Canada, it's been the higher-paying and more stable latter kind of engagement that has excelled with respect to monthly average.
Full-time jobs in Canada this year have averaged +32,000 per month compared with only +3,000 through June of last year.
Canadian manufacturing jobs have displayed a nice swing, moving from -8,000 per month in 2016 to +8,000 in 2017. (In the standalone month of June, they were +3,000 after being +25,000 in May.)
Construction jobs creation in Canada over the past several years has descended into a becalmed funk. June 2017's month-to-month increase in 'on-site' work was +1,000.
January-to-June 2017's monthly average increase in on-site work was also a disappointing +1,000. And it just so happens that January-to-June 2016's average monthly change was +1,000 as well.
Mention is made in Statistics Canada's report of a big leap so far this year in 'computer system design services' work. Hopefully, this trend will continue. The nation's leaders would like to see transition away from a too-heavy reliance on natural resources development in favor of seizing the opportunities in knowledge-based endeavors.
Regionally, the most stunning numbers in Canada's latest labor force survey report were Quebec's +122,000 and British Columbia's +104,000 year-over-year jobs increases. Together, those two provinces contributed nearly two-thirds of the +351,000 gain realized by the country as whole.
In June, America's unemployment rate rose a tiny notch to 4.4% from 4.3% the month before.
The increase is attributed to an uptick in what's known as the 'participation rate'. Some out-of-work individuals, who had formally given up searching for a job, have recently felt encouraged enough by good news concerning the economy, to begin the hunt again.
Canada's unemployment rate in June improved to 6.5% from May's 6.6%. (The Canadian figure is almost always higher than its U.S. counterpart because its calculation takes a somewhat more relaxed view about who among those with no positions are really trying to find work.)
In their historical contexts, both the U.S. and Canadian unemployment rates are presently quite low.
In the U.S., June's jobs report offers convincing reasons for the Federal Reserve to stay the course with its already-instituted program of interest rate hikes.
North of the border, where the policy-setting 'overnight rate' has been on the mat for years, the Bank of Canada will almost certainly feel compelled to soon take assertive action on the interest rate front.