U.S. Jobs Creation in July More of the Same: In Other Words, Exemplary
U.S. Employment Continues to Grow in July
Relative to four of the previous months of this year, July's Employment Situation report from the Bureau of Labor Statistics (BLS) was more of the same. In this instance, it's a pleasure to report, 'more of the same' means exemplary.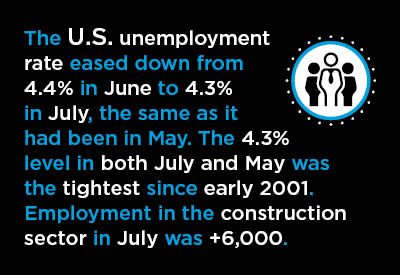 Net new jobs creation in the U.S. economy in July was +209,000, which was especially satisfying, given that it was piled on top of June's +231,000.
Earlier this year, the benchmark +200,000 was also beaten in April (+207,000), February (+232,000) and January (+216,000). Only May (+145,000) and March (+50,000) failed to shine.
Through the first seven months of 2017, America's seasonally adjusted employment (SA) increase has averaged +184,000. The fact that last's year's gain during the same January-to-July time frame was +196,000 doesn't diminish this year's achievement.
The U.S. unemployment rate eased down from 4.4% in June to 4.3% in July, the same as it had been in May. The 4.3% level in both July and May was the tightest since early 2001. The lowest the jobless rate has been in this century was 3.8% in April 2000.
The industry where hiring was torrid in July was 'leisure and hospitality' (+62,000), and even more specifically within its subsector, 'accommodation and food services' (+53,000).
An examination of the regional make up of employment in hotels/motels and in bars and restaurants appears further along in this article, as a wrap-up section.
First, though, there are other industrial categories warranting mention, due to their nominal increases in employment. 'Education and health' (+54,000) had a good July, as did 'professional and business services' (+49,000). 'Manufacturing' (+16,000) turned in its best month since February of this year (+22,000).
The 'education and health' designation was dominated by the 'health care and social assistance' subsector (+45,000). Delving deeper, the number of individuals delivering 'home health care services' rose by an eye-catching +11,000.
Personnel departments at 'hospitals' bumped up staffing by +7,000.
'Retail trade', though, was stuck in neutral (i.e., zero net new jobs in July). The total number of jobs in retail in the U.S. is now down by -45,000 versus year-end 2016.
Employment in the construction sector in July was +6,000, lifting the year-to-date number to +116,000.
Construction Industry Job and Compensation Growth
The average monthly gain in on-site 'hard hat' work this year is +17,000, up from +11,000 in the first seven months of last year.
Construction's not seasonally adjusted (NSA) unemployment rate in July was 4.9%, which was slightly elevated (i.e., worse) vis à vis the 4.5% recorded in July of 2016.
Compensation levels in construction in the latest month remained in line with the all-jobs earnings hikes. For on-site workers, including supervisors, July's advances for average hourly and average weekly earnings were the same at +2.4% y/y. For all workers throughout the U.S. economy, the figures were +2.5% hourly and +2.8% weekly.
Leaving out bosses, construction's pay gains in July were +2.5% y/y both hourly and weekly. The difference relative to the +2.4% both hourly and weekly for all workers, 'sans' supervisors, was minimal.
Employment by the public sector in July moved higher by a modest +4,000. None of it occurred at the federal level. It all originated with local government (+7,000), as the states shed positions (-3,000).
On a percentage-change basis, U.S. total employment in July was +1.5%. (Historically, +2.0% or above has signaled when job creation is proceeding about as well as can be expected.)
U.S. private sector services-providing jobs are currently +1.7% y/y.
Manufacturing jobs are +0.5% y/y. Construction jobs are considerably better at +2.8%.
Employment performances (y/y) in some other major sectors are: 'professional and business services', +2.9%; 'education and health', +2.2%; 'leisure and hospitality', +2.2%; 'financial activities', +1.8%; 'transportation and warehousing', +1.8%; 'retail trade', 0.0%; and 'information services', -1.7%.
Returning, as promised, to a subject introduced earlier, the four states with the largest payrolls in 'hospitality and food services' are California (1.629 million); Texas (1.182 million); Florida (975,000); and New York (771,000). (Those also happen to be the four states in the U.S. with the largest resident counts. One in three Americans lives in California, Texas, New York or Florida.)
Some other states, justifiably lauded as tourist destinations, still fall well short of the Top Four for number of employees engaged in satisfying sustenance and sleeping arrangements: Georgia (440,000); North Carolina (422,000); Nevada (318,000); South Carolina (220,000); Louisiana (206,000); Hawaii (111,000); and the District of Columbia (71,000).
Over the past year, the states which have accounted for the largest nominal increases in 'accommodation and food services' employment have been: California (+37,000); Texas (+30,000); Florida (+28,000); New York (+24,000); and Georgia (+22,000).
With respect to year-over-year (y/y) percentage climbs in such employment, Florida (+2.9%), Texas (+2.6%) and California (+2.3%) have all realized substantial gains, but they haven't been the leaders.
Instead, the frontrunners have been: District of Columbia (+8.2%); Georgia (+5.1%); Hawaii (+4.4%); Pennsylvania (+3.4%); and New York (+3.3%).
Nevada's gain has been only +1.0% y/y. Nevada had a terrible drop in 'accommodation and food services' employment in the Great Recession, and while the state has finally managed to recover that loss, and then some, its former high-flying panache has not yet been fully restored.
As a final observation, it's interesting to note that while most states experienced substantial declines in their 'accommodation and food services' employment in the Great Recession, New York and Texas saw only a relatively brief flattening before their curves began ascending again.
In the nation's capital, there was no downturn in 2008-2009 whatsoever. With congressmen, senators, bureaucrats and lobbyists maintaining a frenzied pace and the arrivals and departures of foreign delegations/supplicants slackening hardly a whit, Washington stayed nicely insulated.