U.S. November Jobs Report Confirms Continuation of Torrid Hiring Pace
The next interest rate announcement by the Federal Open Market Committee (FOMC) of the Federal Reserve is scheduled for Wednesday, December 14.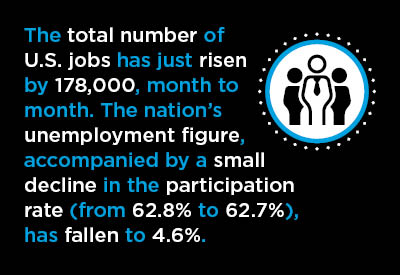 Prior to the latest Employment Situation Report, as published by the Bureau of Labor Statistics (BLS), betting odds were heavily in favor of there being an interest rate hike of 0.25 basis points, where 100 basis points equals 1.00%.
The last yield increase, which was +0.25%, initiated by the Fed was in December, twelve months ago.
The notable strength of the just released jobs numbers for November add reinforcement to the view that interest rates will be moving up again shortly.
The total number of U.S. jobs has just risen by 178,000, month to month. The nation's unemployment figure, accompanied by a small decline in the participation rate (from 62.8% to 62.7%), has fallen to 4.6%. In October, it had been 4.9%, and in November of 2015, 5.0%.
The current 4.6% jobless rate is the lowest since August 2007, which was over nine years ago.
Month-to-month total employment in America through almost the whole of 2016 has averaged +180,000. While that may not be as effervescent as the +225,000 average for January through November of 2015, it is quite bubbly nonetheless.
Construction in November had its third best month for job creation in 2016, with a climb in employment of +19,000. Only September (+26,000) and March (+37,000) were better.
Workforce hiring in construction was particularly sprightly among residential specialty trade contractors (+15,000), which was in keeping with the most recent surge in new home starts, to over 1.3 million units annualized.
Residential groundbreakings have now reached their best level since the spring of 2007.
Year-over-year employment in construction, at +2.4%, is continuing to outpace the annual percentage increase in total U.S. jobs, at +1.6%.
After shedding 4,000 positions in November, employment in the manufacturing sector stood -0.4% on a year-over-year basis. For nine straight months, manufacturing has recorded a year-over-year decline in jobs.
For a long while after the Great Recession, manufacturing employment rose consistently, but it is clearly going through a tough patch at present.
Nearly 80% of the economy's total jobs increase in November originated in the private services-providing sector. The services nominal gain was +139,000 jobs, which amounts to a buoyant +2.0% annually in percentage terms.
'Professional and business services' firms (+63,000 jobs) led the way in taking on additional staff in November. Within the professions, 'accounting and bookkeeping' (+18,000) and 'computer systems and design services' (+5,000) firms were actively hiring, while 'architectural and engineering' (-1,000) and 'legal services' (also -1,000) firms were hanging back.
There were 44,000 more people working in 'education and health services' in November than in October. Most of them (+22,000) were helping with ambulatory health care – which is to say they were adding to payrolls in doctors' offices and in outpatient care centers.
Employment in hospitals also stepped up from the month before, but by a modest +6,000 jobs.
The 'leisure and hospitality' sector registered a nice jog upward in November, +29,000 jobs. Positions in 'amusements, gambling and recreation' were +10,000 and with 'accommodation and food services', +19,000.
The latter was all at 'food services and drinking places'.
The 'retail trade' subsector of services turned in a disappointing performance in the latest month, -8,000 jobs. Remember that the statistics from the BLS are seasonally adjusted, which means that extraordinary changes to personnel in order to prepare for the ultra-busy holiday shopping season are largely smoothed over.
The employment level at 'building material and garden supply stores' stayed flat (+1,000) in the latest month.
The number of production line workers at auto assembly and parts manufacturing firms (+1,000) also remained on an even keel in November.
There's one final sector warranting mention concerning its current staffing requirements.
Government (+22,000 jobs) is back in the game, but it's mostly at the local level (+14,000). State authorities (+5,000) and Washington (+3,000) have been more restrained.
While the overall supply-versus-demand equation for labor has certainly become tighter, compensation rates continue to be mostly stuck in a range of +2.0% to +3.0%.
For all private nonfarm workers, including supervisory personnel, the latest year-over-year increase in average hourly earnings has been +2.5% and in average weekly earnings, +2.2%. The comparable figures for construction on its own have been +2.4% and +2.7% respectively.
Omitting bosses, all workers have made an average hourly earnings gain of +2.4% and an average weekly earnings improvement of +2.1%. Construction workers have done somewhat better at +3.2% both hourly and weekly.
Anticipation of profit improvements to come from the tax cuts and regulation rollbacks planned by the soon-to-be-invested Trump administration have been fueling significant advances in the major U.S. stock market indices.
But it should also be acknowledged that the underlying vitality shown in the labor market statistics over an extended period of time has been playing an important role in investor confidence as well.
The Dow Jones Industrial Average at the end of November sat +24% from its 52-week low.
The S&P 500 was +22% and NASDAQ, +27%.
All three indices have recently attained new all-time highs.