U.S. Southeast Region Has a Cast of City Stars
Among major cities in the southeastern United States, Nashville, true to its country music roots, is presently the star performer.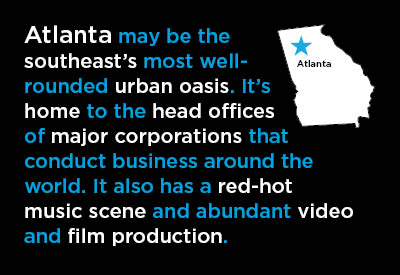 In a ranking of the country's 50 most populous metro areas, Nashville is number one for year-over-year jobs growth (+3.1%) and is second, behind Denver, for low unemployment rate (2.3%).
Nashville's labor market success is not just about its music scene. A burgeoning health care sector deserves a great deal of credit as well.
Other cities in the southeast are also high on the charts for jobs creation. Raleigh (+2.9%) sits in second spot and Atlanta (+2.5%) in third. As for favorable (i.e., minimal) jobless rates, Birmingham (3.1%) is in sixth position and Tampa (3.3%) in ninth.
The cities of the southeast are wonderfully situated for population gains and good economic prospects.
Charlotte has NASCAR and it is the second largest banking center in the nation behind New York.
Miami also has a large financial community with close ties to Latin America.
Tourism is a huge growth sector world-wide and both Miami, as a major cruise ship departure and arrivals point, and Orlando, with its popular entertainment theme parks, led by Disney and Universal Studios, are magnets for domestic and international travelers.
Millennials beginning their careers, and finding Raleigh to be a relatively inexpensive but ideally located knowledge-based center, have endowed that city with a reputation as a high-tech hub.
Atlanta may be the southeast's most well-rounded urban oasis. It's home to the head offices of major corporations that conduct business around the world. It also has a red-hot music scene and abundant video and film production.
Plus, with more than 100 million passengers annually, Hartsfield-Jackson is the world's busiest airport. Work on air passenger terminals, runways, control towers and access highways is heating up construction activity nearly everywhere. Hartsfield-Jackson is no exception with six billion dollars in improvements planned.
Alabama is known for its car plants and aerospace manufacturing facilities.
Airbus, which just acquired 50.1% control of Bombardier's single-aisle C-Series jet, incorporating next level advances in fuel efficiency and noise reduction, has an assembly plant near Mobile.
Some of the major construction projects that have been authorized to proceed in the Southeast's major cities so far in 2017 include:
iSquare mall and hotel, Orlando, $400 million;
Philips Arena renovation, Atlanta, $200 million;
Convention center redevelopment, Nashville, $250 million;
UPS expansion, Jacksonville, $200 million;
Christine E. Lynn Rehabilitation Center for paralysis research, Jackson Memorial Hospital, Miami, $170 million;
I20/59 Bridge replacements and approaches (phase 3), Birmingham, $475 million;
South Terminal C, Concourse and Taxiway, Orlando International Airport, $650 million
Turning to upcoming projects, and knowing that it's always fun to throw in a little celebrity news, there are media reports that David Beckham is the 'front man' for a group wishing to build a new soccer stadium in Miami. The hope is to bring a major league team to the city.
The Southeast region also has one further huge advantage. It remains relatively inexpensive as a place to live.
The National Association of Realtors (NAR) publishes median sales prices for existing homes in approximately 200 U.S. metro areas.
The NAR's Q3 17 ranking of major cities in the Southeast, with respect to resale home prices, is as follows: Miami, $340,000; Raleigh, $268,000; Orlando, $248,000; Nashville, $234,000; Charlotte, $233,000; Jacksonville, $232,000; Tampa, $225,000; Atlanta, $204,000; and Birmingham, $199,000.
The most expensive city for residential real estate in the above listing is Miami and home prices there are well below such other major U.S. metro hubs as: San Jose, $1,165,000; San Francisco, $900,000; San Diego, $607,000; Seattle, $479,000; Boston, $464,000; Denver, $418,000; and Washington D.C., $409,000.
As for the year-over-year changes in single-family existing home prices in the Southeast, Q3 2017 versus Q3 2016, Tampa has led the way, at +9.8%, followed by: Charlotte, +8.0%; Miami, +7.9%; Orlando, +7.8%; Raleigh, +6.9%; Atlanta, +6.7%; Birmingham, +6.1%; Jacksonville, +5.9%; and Nashville, +1.9%. (Notice that according to this metric, Nashville is a laggard, not a leader.)
In the NAR's Q3 2017 figures, there are numerous smaller communities in Florida where the median sales prices of existing single-family homes registered double-digit percentage hikes, year-over-year: Vero Beach, +15.0%; Port St. Lucie, +12.1%; Pensacola, +11.8%; Titusville, +11.7%; Daytona Beach, +11.4%; Punta Gorda, +11.2%; and Gainesville, +11.0%.
Given the seemingly too-frequent instances of severe weather in Florida, − as was most recently evidenced by Hurricane Irma − it's surprising that home prices are being bid up so aggressively in the state. Perhaps the aftershocks from Irma, will become more apparent when Q4 17 results are published.
Plus, there is another potential downside for the Southeast Region that should be mentioned. The negative tone emanating from Washington concerning immigration, legal or otherwise, will inhibit the success of operators in agriculture and construction.
ConstructConnect's database records an estimated $147 billion of total construction starts for the six states Alabama, Florida, Georgia, North Carolina, South Carolina and Tennessee in 2017. By 2021, that number will climb above $190 billion.
Heavy engineering work will lead on-site activity in the region, followed by residential. Non-residential building won't be quite as bullish.