Top 10 Featured Construction Projects in the U.S. - December 2016
The accompanying table records the top 10 featured construction projects in the U.S. for December 2016.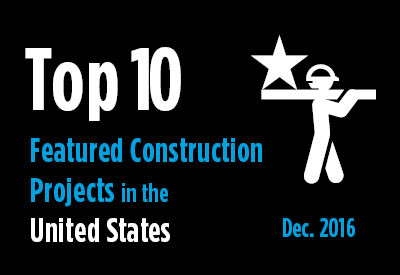 There are several reasons for highlighting upcoming large projects. Such jobs have often received a fair amount of media coverage. Therefore, people in the industry are on the lookout for when jobsite work actually gets underway. And, as showcase projects, they highlight geographically where major construction projects are proceeding.
Also, total construction activity is comprised of many small and medium-sized projects and a limited number of large developments. But the largest projects, simply by their nature, can dramatically affect total dollar and square footage volumes. In other words, the timing and size of these projects have an exaggerated influence on market forecasts.
Click here to download the Construction Industry Snapshot Package - January 2017 PDF.
Click here for the December 2016 Industry Snapshot article, ConstructConnect's December Starts Defied Seasonality with 3% Increase.
Click here for the Nonresidential Construction Starts Trend Graphs - December 2016.
Top 10 featured construction projects in the U.S. - December 2016 †
REGION
(East to

West)
TYPE OF
CONSTRUCTION
DESCRIPTION

Sq. Ft.
000s

Dollars
000,000s

Massachusetts
Salem
Institutional
Peabody Essex Museum Expansion
120
$200
(2 structures; 3 stories) 161 Essex St
Peabody Essex Museum
New York
Jamaica
Commercial
JFK Flight Center Hotel Development
2,236
$265
(5 structures; 6 stories) John F Kennedy International Airport
MCR Development, LLC
Monticello
Institutional
Sullivan County Jail
134
$70
(2 structures; 256 units; 2 stories) 58 Old Route 17
Sullivan County
Long Island City
Institutional
PS 101K New Building Work
419
$66
(1 structure; 4 stories) 2350 Benson Ave
New York City School Construction Authority (NYCSCA)
New Jersey
Camden
Commercial
Camden Waterfront Mixed-Use Development
1,700
$1,000
(5 structures) 1 Water St
Liberty Property Trust - Philadelphia
Georgia
Altlanta
Institutional
Northside Midtown Office Tower
170
$60
(2 structures; 12 stories) W Peachtree at 13th St
Brand Properties
Florida
Palm Beach Gardens
Residential
Atlantico at Palm Beach Gardens
847
$106
(5 structures; 353 units; 4 stories) Donald Ross Rd, Hood Rd and I95
Florida Crystals
Wisconsin
Madison
Residential
The Starliner Condominiums and Lofts
655
$90
(2 structures; 43 units; 4 stories) 802 and 854 E Washington Ave
Gebhardt Development
Texas
Allen
Institutional
New Lowery Freshman Center
326
$97
(1 structure; 2 stories) Greenville Ave and Pebblebrook Dr
Allen Independent School District
North Dakota
Grand Forks
Engineering/Civil
Grand Forks Regional Water Treatment Plant
*
$130
(1 structure) Demer Ave and North 55th
City of Grand Forks Office of Finance & Admin Services
TOTALS:
6,607
$2,084
*A square footage measure does not apply for alteration and engineering/civil work.
†ConstructConnect™ merges four legacy companies. As part of the data integration process, ConstructConnect™ is moving from an estimated start date (i.e., 30-60 days after bid date) for each project to an assigned start date. The transition will be complete by the end of 2016. Until then, the above Table will highlight featured projects rather than Top 10 starts.
Data source and table: ConstructConnect.