Top 10 Featured Construction Projects in the U.S. - November 2016
The accompanying table records the top 10 featured construction projects in the U.S. for November 2016.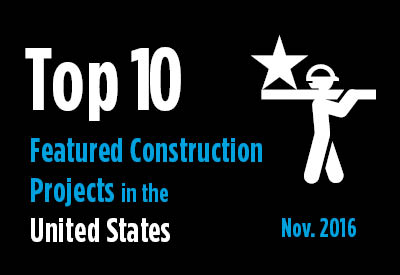 There are several reasons for highlighting upcoming large projects. Such jobs have often received a fair amount of media coverage. Therefore, people in the industry are on the lookout for when jobsite work actually gets underway. And, as showcase projects, they highlight geographically where major construction projects are proceeding.
Also, total construction activity is comprised of many small and medium-sized projects and a limited number of large developments. But the largest projects, simply by their nature, can dramatically affect total dollar and square footage volumes. In other words, the timing and size of these projects have an exaggerated influence on market forecasts.
Click here to download the Construction Industry Snapshot Package - November 2016 PDF.
Click here for the November 2016 Industry Snapshot article, ConstructConnect's November Starts Stumbled by Nearly One-quarter.
Click here for the Nonresidential Construction Starts Trend Graphs - November 2016.
Top 10 featured construction projects in the U.S. - November 2016
REGION
(East to

West)
TYPE OF
CONSTRUCTION
DESCRIPTION

Sq. Ft.
000s

Dollars
000,000s

New York
Brooklyn
Engineering/Civil
S-32176-Signal System Modernization
*
$98
MTA - New York City Transit
Maryland
Baltimore
Engineering/Civil
Druid Lake Finished Water Tanks
*
$134
(1 structure) Druid Lake
Baltimore City DPW Water & Wastewater
Virginia
Richmond
Residential
Armstong High School Demolition Package
997
$110
N 31st St at Nine Mile Rd
The Community Builders
Florida
Naples
Residential
Tract 54 at Lely Resort Apartments
436
$120
(2 structures; 304 units; 6 stories) Grand Lely Dr and Rattlesnake Hammock Rd
Stock Development
Miami
Commercial
The Mall at Miami World Center
430
$100
(1 structure) 700 NE 2nd Ave
Taubman Centers, Inc
Tennessee
Knoxville
Residential
Waterstone Apartments
679
$85
(1 structure; 252 units: 4 stories) 10105 Hardin Valley Rd
Ball Homes
Wisconsin
Milwaukee
Institutional
Marquette University Dormitory
466
$96
(1 structure; 750 units; 8 stories) Wells St
Marquette University Facilities Services Department
Arizona
Phoenix
Engineering/Civil
Phoenix Sky Harbor International Airport (PHX) Phase 2 - Terminal 3 South Concourse
*
$116
(1 structure) 3400 East Sky Harbor Blvd
City of Phoenix - Design and Construction Management
California
San Francisco
Residential
Oceanwide Center
2,065
$1,600
(9 structures; 794 units; 80-plus stories) 50 First St and 526 Mission St
TMG Partners
Hawaii
Honolulu
Residential
Kapiolani Residence
1,518
$190
(1 structure; 485 units; 45 stories) 1391 Kapiolani Blvd
Samkoo Pacific LLC
TOTALS:
6,591
$2,649
*A square footage measure does not apply for alteration and engineering/civil work.
*ConstructConnect™ merges four legacy companies. As part of the data integration process, ConstructConnect™ is moving from an estimated start date (i.e., 30-60 days after bid date) for each project to an assigned start date. The transition will be complete by the end of 2016. Until then, the above Table will highlight featured projects rather than Top 10 starts.
Data source and table: ConstructConnect.