Top 10 Project Starts in the U.S. - October 2018
The accompanying table records the top 10 project starts in the U.S. for October 2018.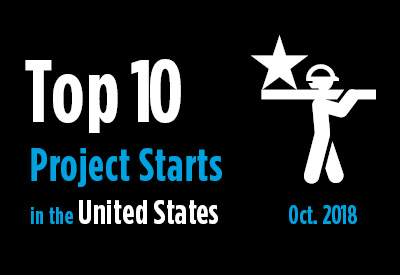 There are several reasons for highlighting upcoming large projects. Such jobs have often received a fair amount of media coverage. Therefore, people in the industry are on the lookout for when jobsite work actually gets underway. And, as showcase projects, they highlight geographically where major construction projects are proceeding.
Also, total construction activity is comprised of many small and medium-sized projects and a limited number of large developments. But the largest projects, simply by their nature, can dramatically affect total dollar and square footage volumes. In other words, the timing and size of these projects have an exaggerated influence on market forecasts.
Click here to download the Construction Industry Snapshot Package - October 2018 PDF.
Click here for the October 2018 Industry Snapshot article, ConstructConnect's October Nonresidential Starts Were -4% M/M and -5% YTD.
Click here for the Nonresidential Construction Starts Trend Graphs - October 2018.
Top 10 project starts in the U.S. - October 2018
LOCATION
(East to

West)
TYPE OF
CONSTRUCTION
DESCRIPTION

Sq. Ft.
000s*

Dollars
000,000s

Massachusetts
Boston
Residential
Seaport Square - St. Regis Residences
263
$260
(2 structures; 22 stories; 114 units) 150 Seaport Blvd
The Cronin Group
Pennsylvania
Philadelphia
Residential
The Laurel
750
$300
(3 structures; 53 stories; 406 units) 1911 Walnut St
Southern Land Company - Corp. Headquarters
District of Columbia
Washington
Residential
St. Elizabeths East Phase 1
255
$240
(3 structures; 250 units) 1100 Alabama Ave SE
Redbrick LMD LLC
Virgina
Virgina Beach
Industrial
Birdneck Road Battery Manufacturing Facility
500
$250
(2 structures; 1 story) 373 and 411 S Birdneck Rd
City of Virginia Beach
Ohio
Wellsville
Engineering/Civil
South Field Energy Facility
*
$1,300
(1,100 MW natural gas-fired)
(1 structure) Outskirts of Wellsville
Advanced Power Services
Kentucky
Ashland
Industrial
Braidy Industries Inc. Aluminum Plant
2,500
$1,500
(1 structure) EastPark, near I-64
Braidy Industries, Inc.
Michigan
Detroit
Institutional
Wayne County Criminal Justice Complex & Jail
1,000
$533
(5 structures; 24 stories; 2440 units) I-75 and E Warren Ave
Rock Ventures LLC
Texas
Sealy
Engineering/Civil
Site Work/Grading/Paving
*
$279
IH 10
Texas Department of Transportation / Austin
Colorado
Denver
Commercial
Rockies West Lot Development
828
$250
(7 structures; 36 stories; 535 units) 1901 Wazee St
Colorado Rockies Baseball Club Ltd
Utah
Eagle Mountain
Commercial
Facebook Data Center
970
$750
(1 structure) Eagle Mountain
Facebook Inc. - Corporate Headquarters
TOTALS:
7,066
$5,662
*A square footage measure does not apply for alteration, some forms of industrial (e.g., petrochemical) and engineering/civil work.
Data source and table: ConstructConnect.