Top 10 Project Starts in the U.S. - April 2018
The accompanying table records the top 10 project starts in the U.S. for April 2018.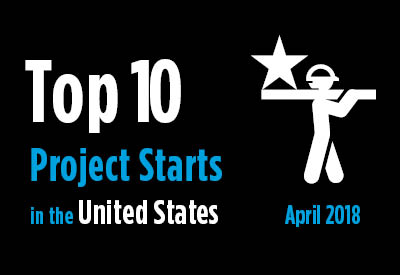 There are several reasons for highlighting upcoming large projects. Such jobs have often received a fair amount of media coverage. Therefore, people in the industry are on the lookout for when jobsite work actually gets underway. And, as showcase projects, they highlight geographically where major construction projects are proceeding.
Also, total construction activity is comprised of many small and medium-sized projects and a limited number of large developments. But the largest projects, simply by their nature, can dramatically affect total dollar and square footage volumes. In other words, the timing and size of these projects have an exaggerated influence on market forecasts.
Click here to download the Construction Industry Snapshot Package - April 2018 PDF.
Click here for the April 2018 Industry Snapshot article, ConstructConnect's April Starts +14%, A Bit Better than Usual Seasonal Uptick.
Click here for the Nonresidential Construction Starts Trend Graphs - April 2018.
Top 10 project starts in the U.S. - April 2018
LOCATION
(East to

West)
TYPE OF
CONSTRUCTION
DESCRIPTION

Sq. Ft.
000s*

Dollars
000,000s

New York
Long Island City
Commercial
Toyoko Inn / Long Island City
260
$315
(3 structures; 50 stories; 1265 rooms) 24-09 Jackson Ave
Toyoko Inn New York, LLC
New Jersey
Newark
Commercial
Newark Liberty International Airport - Terminal 1
1,000
$1,400
(2 structures; 2 stories) 3 Brewster Rd
Port Authority of New York and New Jersey - Procurement (PANYNJ)
Brooklyn
Engineering/Civil
C-34836, Coney Island Yard Complex Long Term Flood Mitigation in the Borough of Brooklyn
*
$310
(1 structure) Multiple Locations
New York City Transit Bid Reception Desk
District of Columbia
Washington
Engineering/Civil
Construction Management Services DC Clean Rivers Project Division J - Northeast Boundary Tunnel
*
$580
(1 structure) Northeast Boundary Tunnel
District of Columbia Water and Sewer Authority
Washington
Institutional
MedStar Georgetown University Hospital Expansion
400
$567
(3 structures; 12 stories) 3800 Reservoir Rd NW
Trammell Crow Co - Washington
Virginia
Salem
Engineering/Civil
Mountain Valley Pipeline
*
$3,500
(1 structure) Multiple Locations
NextEra Energy Resources LLC/NextEra Energy Inc
Georgia
Social Circle
Commercial
Facebook Social Circle Data Center Campus Phase 1
970
$750
(Walton County -
(1 structure) 240 Shire Parkway
East Atlanta)
Facebook Inc - Corporate Headquarters
Kansas
Lansing
Institutional
Lansing Correctional Facility Reconstruction - State of Kansas
401
$362
(1 structures) 301 E Kansas St
Kansas Department of Corrections
Leawood
Engineering/Civil
Tomahawk Creek Wastewater Treatment Facility Improvements
*
$335
10701 Lee Blvd
Johnson County - Purchasing Division
California
San Francisco
Residential
1500 Mission (aka Goodwill Site)
1,268
$300
(4 structures; 55 stories; 860 units) S Van Ness Ave and borders 11th St and Mission St
Goodwill Urban Housing
TOTALS:
4,299
$8,419
*A square footage measure does not apply for alteration, some forms of industrial (e.g., petrochemical) and engineering/civil work.
Data source and table: ConstructConnect.