Top 10 Project Starts in the U.S. - December 2018
The accompanying table records the top 10 project starts in the U.S. for December 2018.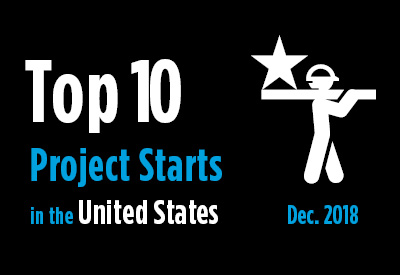 There are several reasons for highlighting upcoming large projects. Such jobs have often received a fair amount of media coverage. Therefore, people in the industry are on the lookout for when jobsite work actually gets underway. And, as showcase projects, they highlight geographically where major construction projects are proceeding.
Also, total construction activity is comprised of many small and medium-sized projects and a limited number of large developments. But the largest projects, simply by their nature, can dramatically affect total dollar and square footage volumes. In other words, the timing and size of these projects have an exaggerated influence on market forecasts.
Click here to download the Construction Industry Snapshot Package - December 2018 PDF.
Click here for the December 2018 Industry Snapshot article, Nonresidential Construction Starts Ended 2018 Almost Level with 2017.
Click here for the Nonresidential Construction Starts Trend Graphs - December 2018.
Top 10 project starts in the U.S. - December 2018
LOCATION
(East to

West)
TYPE OF
CONSTRUCTION
DESCRIPTION

Sq. Ft.
000s*

Dollars
000,000s

Massachusetts
Boston
Engineering/Civil
Bridge Replacement Br. No. B-16-016 (Concrete) North Washington Street over the Boston Inner Harbor
*
$177
(4 structures) N Washington St
Massachusetts Department of Transportation - Highway Division (DOT)
Pennsylvania
Philadelphia
Institutional
College House West Residential Dorm/ The University of Pennsylvania
250
$163
(1 structure; 5 stories; 450 units) 40th St and Walnut St
University of Pennsylvania - Design and Construction
Virginia
Manassas
Industrial
Micron Technology Inc Manassas Plant Expansion
100
$3,000
"Clean Room" for microchip production
(2 structures) 9600 Godwin Dr
Micron Technology Inc / Manassas
Boydton
Commercial
Microsoft-BN09-13 (Data Center Expansion)
450
$347
(1 structure; 1 story) 101 Herbert Dr
Microsoft Corp
Florida
Boca Raton
Residential
Alina Residences Boca Raton
1,342
$500
(2 structures; 11 stories; 793 units) 210-398 SE Mizner Blvd
ELAD National Properties
Ohio
Cleveland
Institutional
MetroHealth Tower
707
$1,000
(3 structures; 12 stories; 270 beds) 2500 MetroHealth Dr
Hammes Company
Michigan
Detroit
Commercial
Monroe Block Mixed-Use - Block A / Detroit
988
$830
(5 structures; 50 stories) 118 Monroe Ave
Rock Ventures LLC
Lansing
Institutional
McLaren Greater Lansing Regional Medical Center
500
$450
(1 structure; 240 beds) Collins Rd and US 127
McLaren Regional Medical Center Greater Lansing
California
Los Angeles
Residential
The Grand - Parcel Q
1,700
$1,000
(6 structures; 59 stories; 2241 units) 100 S Grand Ave
Related California
Redding
Institutional
Shasta County New Redding Courthouse Project
177
$155
(2 structures; 6 stories) 1500 Court St
State of California - Office of Court Construction and Management
TOTALS:
6,214
$7,622
*A square footage measure does not apply for alteration, some forms of industrial (e.g., petrochemical) and engineering/civil work.
Data source and table: ConstructConnect.