Top 10 Project Starts in the U.S. - February 2017
The accompanying table records the top 10 project starts in the U.S. for February 2017.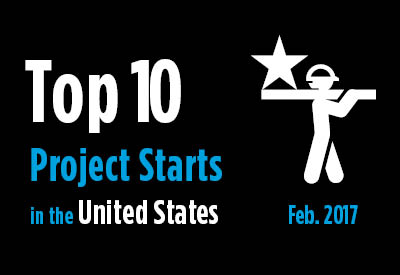 There are several reasons for highlighting upcoming large projects. Such jobs have often received a fair amount of media coverage. Therefore, people in the industry are on the lookout for when jobsite work actually gets underway. And, as showcase projects, they highlight geographically where major construction projects are proceeding.
Also, total construction activity is comprised of many small and medium-sized projects and a limited number of large developments. But the largest projects, simply by their nature, can dramatically affect total dollar and square footage volumes. In other words, the timing and size of these projects have an exaggerated influence on market forecasts.
Click here to download the Construction Industry Snapshot Package - March 2017 PDF.
Click here for the February 2017 Industry Snapshot article, ConstructConnect's -2% February Starts Almost Hold Their Ground.
Click here for the Nonresidential Construction Starts Trend Graphs - March 2017.
Top 10 project starts in the U.S. - February 2017
LOCATION
(East to

West)
TYPE OF
CONSTRUCTION
DESCRIPTION

Sq. Ft.
000s*

Dollars
000,000s

New York
New York
Commercial
One Vanderbilt
1,500
$3,000
(4 structures; 67 stories) 10 Vanderbilt Ave
SL Green Realty Corporation
Long Island City
Commercial
One and Three Gotham Center
1,100
$700
(3 structures; 34 stories) 28-07 Jackson Ave
Tishman Speyer Global HQ - New York
North Carolina
Mooresville
Institutional
Langtree Lake Norman - Phases II and III - Novant Health Care/Hilton Doubletree
1,550
$500
(6 structures; 14 stories) Langtree Road
RL West Head Quarters - Mooresville
Florida
Miami
Residential
Brickell Heights
500
$400
(2 structures; 690 units) 850 S Miami Ave
Crescent Heights - Miami
Michigan
Grand Rapids
Industrial
Area 52 - Phases 3 & 4
800
$376
(1 structure) 5005 Kraft Ave SE
Robert Grooters Development Co
Illinois
Chicago
Residential
Riverline Development
2,000
$1,500
(4 stories; 80 stories) 726 S Wells St, Harrison St, Roosevelt Rd
CMK Companies
Alabama
Huntsville
Commercial
MidCity Huntsville Redevelopment Project
900
$450
(4 structures) 5901 University Dr
RCP Companies
Texas
Hutchins
Industrial
Core5 Industrial Partners/Hutchins Logistic Center
755
$405
(1 structure) 1200 W Wintergreen Rd
Core5 Industrial Partners LLC
Arizona
Phoenix
Engineering/Civil
Loop 202 South Mountain Freeway
*
$917
Arizona Department of Transportation (AZDOT) Public-Private Partnership (P3) Division
California
Los Angeles
Engineering/Civil
Design Build Services For Midfield Satellite Concourse North At Los Angeles International Airport
750
$1,600
1 World Way
Los Angeles World Airport - Administration Department
TOTALS:
9,855
$9,848
*A square footage measure does not apply for alteration and engineering/civil work.
Data source and table: ConstructConnect.