Top 10 Project Starts in the U.S. - February 2019
The accompanying table records the top 10 project starts in the U.S. for February 2019.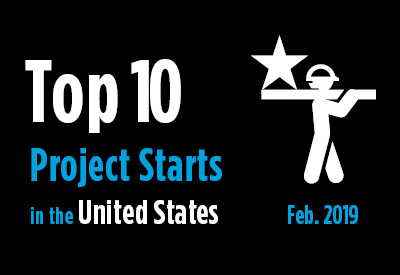 There are several reasons for highlighting upcoming large projects. Such jobs have often received a fair amount of media coverage. Therefore, people in the industry are on the lookout for when jobsite work actually gets underway. And, as showcase projects, they highlight geographically where major construction projects are proceeding.
Also, total construction activity is comprised of many small and medium-sized projects and a limited number of large developments. But the largest projects, simply by their nature, can dramatically affect total dollar and square footage volumes. In other words, the timing and size of these projects have an exaggerated influence on market forecasts.
Click here to download the Construction Industry Snapshot Package - February 2019 PDF.
Click here for the February 2019 Industry Snapshot article, A Second Month of Construction Starts Weakness Early in 2019.
Click here for the Nonresidential Construction Starts Trend Graphs - February 2019.
Top 10 project starts in the U.S. - February 2019
LOCATION
(East to

West)
TYPE OF
CONSTRUCTION
DESCRIPTION

Sq. Ft.
000s*

Dollars
000,000s

Florida
Miami
Civil/Engineering
I-395 MacArthur Causeway Bridge (ASDB)
*
$802
(1 structure) I-395
Florida Department of Transportation (FDOT) - District 6
Illinois
Coal Valley
Civil/Engineering
I-80 over the Mississippi River Crossing Corridor - Planning and Environmental Linkages (PEL) Study
*
$320
(1 structure) I-80
Illinois Department of Transportation (IDOT)
Texas
Beaumont
Industrial
ExxonMobil Expansion
*
$1,500
(1 structure) 3475 US-90
Exxonmobil Public & Government Affairs
Pearland
Commercial
The Ivy District - Mixed-Use Development Master Plan
300
$344
(5 structures; 17 stories; 1300 units) Texas St
American Modern Green
Houston
Industrial
Cypress Preserve Logistics Center
560
$300
(1 structure; 1 story) Cypress Slough
Davis Commercial Development, LLC
Houston
Residential
San Felipe Residential
1,002
$190
(4 structures; 38 stories; 351 units) Post Oak Blvd and San Felipe
Millennium Santa Monica, LLC
Colorado
Aurora
Institutional
Colorado Center for Personalized Medicine and Behavioral Health
391
$176
(2 structures; 7 stories) 13001 E 17th Pl
University of Colorado - Department of Facilities Projects
California
Los Angeles
Residential
2900 Wilshire Blvd Mixed-Use Development
658
$300
(4 structures; 29 stories; 1768 units) 2900 Wilshire Blvd
Jamison Services
Whittier
Residential
The Groves, Transformation of Existing Structures
*
$200
(2 structures; 750 units) 11850 Whittier Blvd
Brookfield Residential - Southland Headquarters
Santa Clara
Institutional
SCU: Sobrato Campus for Discovery and Innovation
300
$200
(1 structure; 4 stories) 500 El Camino Real
Santa Clara University
TOTALS:
3,211
$4,332
*A square footage measure does not apply for alteration, some forms of industrial (e.g., petrochemical) and engineering/civil work.
Data source and table: ConstructConnect.