Top 10 Project Starts in the U.S. - January 2017
The accompanying table records the top 10 project starts in the U.S. for January 2017.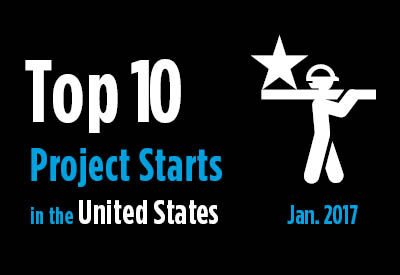 There are several reasons for highlighting upcoming large projects. Such jobs have often received a fair amount of media coverage. Therefore, people in the industry are on the lookout for when jobsite work actually gets underway. And, as showcase projects, they highlight geographically where major construction projects are proceeding.
Also, total construction activity is comprised of many small and medium-sized projects and a limited number of large developments. But the largest projects, simply by their nature, can dramatically affect total dollar and square footage volumes. In other words, the timing and size of these projects have an exaggerated influence on market forecasts.
Click here to download the Construction Industry Snapshot Package - February 2017 PDF.
Click here for the January 2017 Industry Snapshot article, 9% Drop in ConstructConnect's January Starts Matches Usual Seasonality.
Click here for the Nonresidential Construction Starts Trend Graphs - January 2017.
Top 10 project starts in the U.S. - January 2017
LOCATION
(East to

West)
TYPE OF
CONSTRUCTION
DESCRIPTION

Sq. Ft.
000s*

Dollars
000,000s

New York
New York
Residential
Maplewood Senior Living Community / Manhattan,
201
$246
Apartments (5 structures; 20 stories; 214 units),
1802-1810 2nd Ave & 303-305 E 93rd St.,
Maplewood Senior Living Communities
New Jersey
Jersey City
Residential
The Rise - McGinley Square, Apartments,
317
$200
(3 structures; 16 stories; 419 units), 711 Montgomery Street,
Rescore Montgomery LLC
Pennsylvania
University Park
Institutional
Chemical Engineering/Biomedical Engineering Building,
843
$150
Pennsylvania State University - Office of Physical Plant
Delaware
Newark
Institutional
Christiana Care Health Systems Neonatal Intensive
388
$195
Care Unit (NICU) Addition & Parking Garage,
Christiana Care Health Systems
Virginia
Herndon
Residential
Arrowbrook Centre, Condominiums,
3,000
$300
Centreville Road and Dulles Toll Road,
Carbon Thompson Development
South Carolina
Piedmont
Industrial
August Grove #17 Industrial Spec Building,
332
$150
Matrix Parkway & Old Grove Road,
Long Wharf Real Estate Partners LLC
Georgia
Atlanta
Institutional
Piedmont Hospital - Marcus Heart & Vascular Center,
2,118
$603
(2 structures; 23 stories), 1938 Peachtree St. NW,
Piedmont Atlanta Hospital
Texas
Fort Worth
Commercial
Fort Worth Multipurpose Arena at Will Rogers
3,544
$450
Memorial Center, Harley Avenue at Gendy Street,
Event Facilities Fort Worth
Houston
Commercial
United Technical Operations Center at IAH,
200
$162
2800 North Terminal Road,
United Airlines - Houston Intercontinental Airport
California
San Francisco
Commercial
Chase Center and Warriors Mixed Use Office & Retail
1,187
$ 1,000
Development (4 structures; 11 stories),
300 South Street,
Alexandria Real Estate Equities Inc.
TOTALS:
12,130
$3,456
*A square footage measure does not apply for alteration and engineering/civil work.
Data source and table: ConstructConnect.