Top 10 Project Starts in the U.S. - January 2018
The accompanying table records the top 10 project starts in the U.S. for January 2018.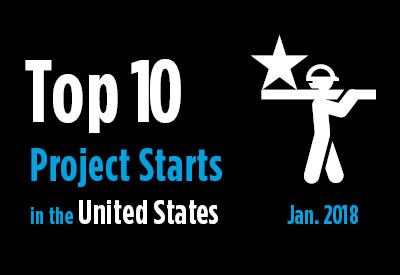 There are several reasons for highlighting upcoming large projects. Such jobs have often received a fair amount of media coverage. Therefore, people in the industry are on the lookout for when jobsite work actually gets underway. And, as showcase projects, they highlight geographically where major construction projects are proceeding.
Also, total construction activity is comprised of many small and medium-sized projects and a limited number of large developments. But the largest projects, simply by their nature, can dramatically affect total dollar and square footage volumes. In other words, the timing and size of these projects have an exaggerated influence on market forecasts.
Click here to download the Construction Industry Snapshot Package - January 2018 PDF.
Click here for the January 2018 Industry Snapshot article, ConstructConnect's January 2018 Starts +9.7% versus Prior Five-year Average.
Click here for the Nonresidential Construction Starts Trend Graphs - January 2018.
Top 10 project starts in the U.S. - January 2018
LOCATION
(East to

West)
TYPE OF
CONSTRUCTION
DESCRIPTION

Sq. Ft.
000s*

Dollars
000,000s

Maryland
Largo
Institutional
Prince George's Regional Medical Center
600
$543
(1 structure; 11 stories; 240 beds) Hospital Dr and Arena Dr
Dimension Healthcare System
Ohio
Cincinnati
Institutional
Cincinnati Children's Hospital Medical Center Expansion
650
$650
(3 structures; 8 stories; 150 beds) 3333 Burnet Ave
Cincinnati Childrens Hospital Medical Center
Missouri
Grandview
Commercial
Loews Kansas City Convention Center Hotel
823
$324
(5 structures; 28 stories; 800 rooms) 1515 Wyandotte St
Loews Hotels
Louisiana
Westlake
Engineering/Civil
Entergy Louisiana Natural Gas Power Plant / Westlake
*
$872
(1 structure) 3500 Houston River Rd
Entergy
Utah
Salt Lake City
Engineering/Civil
Salt Lake City Dept. of Airports North Concourse Program
840
$737
(2 structures; 3 stories) 776 N Terminal Dr
Salt Lake City Department of Airports
Arizona
Phoenix
Engineering/Civil
PHX Sky Train Stage 2
*
$280
(2 structures) 3400 E Sky Harbor Blvd
City of Phoenix
Tempe
Institutional
Mira Bella Senior Living Tower
500
$270
(1 structure; 20 stories; 252 units) Mill Ave and University Dr
Pacific Retirement Services
California
Oakland
Commercial
The Key at 12th
334
$300
(4 structures; 26 stories; 145 units) 1100 Broadway
Ellis Partners
Los Angeles
Commercial
Los Angeles Memorial Coliseum Renovation / University of Southern California
240
$270
(2 structures; 7 stories; 77,500 seats) 3911 S Figueroa St
University of Southern California - Capital Construction and Facilities Purchasing
Riverside
Engineering/Civil
RCTC - Project and Construction Management Services for the Interstate 15 Express Lanes Project
*
$244
Riveside County Transportation Commission (RCTC)
TOTALS:
3,987
$4,490
*A square footage measure does not apply for alteration, some forms of industrial (e.g., petrochemical) and engineering/civil work.
Data source and table: ConstructConnect.