Top 10 Project Starts in the U.S. - January 2019
The accompanying table records the top 10 project starts in the U.S. for January 2019.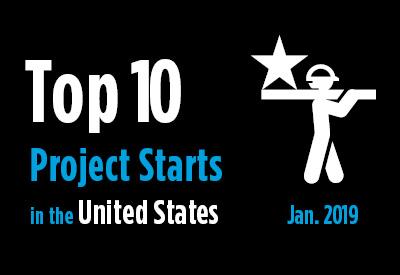 There are several reasons for highlighting upcoming large projects. Such jobs have often received a fair amount of media coverage. Therefore, people in the industry are on the lookout for when jobsite work actually gets underway. And, as showcase projects, they highlight geographically where major construction projects are proceeding.
Also, total construction activity is comprised of many small and medium-sized projects and a limited number of large developments. But the largest projects, simply by their nature, can dramatically affect total dollar and square footage volumes. In other words, the timing and size of these projects have an exaggerated influence on market forecasts.
Click here to download the Construction Industry Snapshot Package - January 2019 PDF.
Click here for the January 2019 Industry Snapshot article, A Slow Beginning for 2019 Construction Starts.
Click here for the Nonresidential Construction Starts Trend Graphs - January 2019.
Top 10 project starts in the U.S. - January 2019
LOCATION
(East to

West)
TYPE OF
CONSTRUCTION
DESCRIPTION

Sq. Ft.
000s*

Dollars
000,000s

New Hampshire
Hanover
Institutional
Thayer School of Engineering & Department of Computer Science Expansion - Dartmouth College
180
$200
(2 structures; 4 stories) 14 Engineering Dr
Dartmouth College Office of Planning, Design & Construction
New York
Brooklyn
Institutional
Coney Island Hospital Complex Renovation & Addition
903
$738
(2 structures; 11 stories; 467 beds) 2619 Ocean Pkwy
Coney Island Hospital
New Jersey
Montclair
Residential
Bloomfield Avenue Mixed-Use Development
1,002
$135
(5 structures; 6 stories; 200 units) Bloomfield Ave
Ironstate Development
Pennsylvania
Philadelphia
Commercial
Live! Hotel & Casino
1,500
$700
(3 structures; 13 stories; 2820 units) 900 Packer Ave
The Cordish Company
Hershey
Commercial
Hershey's Chocolatetown at Hersheypark
*
$150
(3 structures) 100 Hersheypark Dr
Hershey Entertainment & Resorts
Alabama
Huntsville
Industrial
Blue Origin Manufacturing Plant - Cummings Research Park / Huntsville
200
$200
(1 structure) 1100 Explorer Blvd
Blue Origin LLC
Wisconsin
Milwaukee
Industrial
Caterpillar Office Campus Redevelopment / Milwaukee
750
$403
(1 structure) 1118 E Rawson Ave
Reich Brothers - Headquarters
Texas
Beaumont
Industrial
Ethane Export Facility - Martin Midstream Facility
*
$1,500
(1 structure) 1 Gulf States Rd
Martin Midstream Partners
Laredo
Industrial
Port Grande Logistics Port / Laredo
423
$230
(2 structures; 450 units) 1402 Carriers Dr
Majestic Realty Co. - Los Angeles
Hawaii
Ewa Beach
Civil/Engineering
Honouliuli Wastewater Treatment Plant Secondary Treatment Phase 1B - Secondary Compliance Facilities
*
$267
(1 structure) 96-1000 Geiger Rd
City and County of Honolulu - Purchasing
TOTALS:
4,958
$4,523
*A square footage measure does not apply for alteration, some forms of industrial (e.g., petrochemical) and engineering/civil work.
Data source and table: ConstructConnect.