Top 10 Construction Project Starts in the U.S. - July 2017
The accompanying table records the top 10 project starts in the U.S. for July 2017.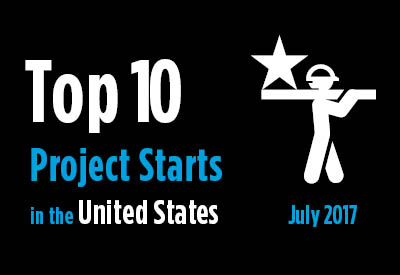 There are several reasons for highlighting upcoming large projects. Such jobs have often received a fair amount of media coverage. Therefore, people in the industry are on the lookout for when jobsite work actually gets underway. And, as showcase projects, they highlight geographically where major construction projects are proceeding.
Also, total construction activity is comprised of many small and medium-sized projects and a limited number of large developments. But the largest projects, simply by their nature, can dramatically affect total dollar and square footage volumes. In other words, the timing and size of these projects have an exaggerated influence on market forecasts.
Click here to download the Construction Industry Snapshot Package - July 2017 PDF.
Click here for the July 2017 Industry Snapshot article, ConstructConnect's Ytd Starts +1% after July's Retreat of -14%.
Click here for the Nonresidential Construction Starts Trend Graphs - July 2017.
Top 10 project starts in the U.S. - July 2017
LOCATION
(East to

West)
TYPE OF
CONSTRUCTION
DESCRIPTION

Sq. Ft.
000s*

Dollars
000,000s

Connecticut
Hartford
Commercial
State Office Building Renovation and New Parking Garage
350
$205
(2 structures) 165 Capital Ave
State of Connecticut - Department of Administrative Services
New Jersey
Kearny
Engineering/Civil
Route 7 Hackensack River Wittpenn Bridge Contract 4
*
$195
(4 structures) Route 7
New Jersey Department of Transportation (NJDOT)
North Carolina
Charlotte
Commercial
Riverboat - Division 10
1,008
$210
(1 structure; 30 stories) 620 South Tyrone
Lincoln Harris - Charlotte
Florida
Jacksonville
Industrial
UPS - Jacksonville Expansion
260
$196
(1 structure) 4420 Imeson Rd
UPS - Corporate HQ
Miami
Institutional
Christine E. Lynn Rehabilitation Center for The Miami Project to Cure Paralysis - Jackson Memorial Hospital
225
$173
(1 structure) 1611 NW 12th Ave
Jackson Memorial Hospital
Tennessee
Charleston
Industrial
Wacker Pyrogenic Silica Production Plant / Charleston
1,046
$150
(1 structure) 553 McBryant Rd NW
Wacker Polysilicon North America LLC
Iowa
Bettendorf
Engineering/Civil
Bridge Replacement - Steel Girder I-74 Approaches to Arch Bridge over Mississippi River
*
$322
(4 structures) I-74
Iowa Department of Transportation (DOT)
Texas
Arlington
Industrial
United Parcel Service Package Operations Facility / Arlington
1,200
$200
(2 structures) Bardin Rd and SH 360
UPS - Corporate HQ
California
Sacramento
Engineering/Civil
Mather Dam Improvement Project
*
$188
(1 structure) Multiple Locations
Sacramento Co-Water Resources Dept
Milpitas
Residential
Capitol Avenue Mixed-Use
1,343
$175
(2 structures; 5 stories; 582 units) 730-750 E Capitol Ave
Architects Orange (Owner's Rep)
TOTALS:
5,432
$2,014
*A square footage measure does not apply for alteration and engineering/civil work.
Data source and table: ConstructConnect.