Top 10 Project Starts in the U.S. - June 2019
The accompanying table records the top 10 project starts in the U.S. for June 2019.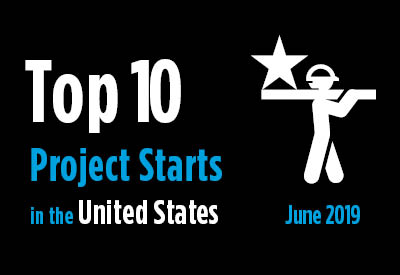 There are several reasons for highlighting upcoming large projects. Such jobs have often received a fair amount of media coverage. Therefore, people in the industry are on the lookout for when jobsite work actually gets underway. And, as showcase projects, they highlight geographically where major construction projects are proceeding.
Also, total construction activity is comprised of many small and medium-sized projects and a limited number of large developments. But the largest projects, simply by their nature, can dramatically affect total dollar and square footage volumes. In other words, the timing and size of these projects have an exaggerated influence on market forecasts.
Click here to download the Construction Industry Snapshot Package - June 2019 PDF.
Click here for the June 2019 Industry Snapshot article, Nonresidential Construction Starts Land Softly in June after Soaring in May.
Click here for the Nonresidential Construction Starts Trend Graphs - June 2019.
Top 10 project starts in the U.S. - June 2019
LOCATION
(East to

West)
TYPE OF
CONSTRUCTION
DESCRIPTION

Sq. Ft.
000s*

Dollars
000,000s

Florida
Jacksonville
Civil/Engineering
First Coast Expressway Phase 3
*
$600
(4 structures) Multiple Locations from I-10 to I-95
Florida Department of Transportation
Labelle
Civil/Engineering
C43 West Caloosahatchee Basin Storage Reservoir
*
$524
(2 structures)
South Florida Water Management District (SFWMD) - Procurement Office
Ohio
West Liberty
Civil/Engineering
Scioto Ridge Wind Farm
*
$300
Innogy Renewables US
Tennessee
Nashville
Commercial
Four Seasons Hotel and Private Residences Nashville
851
$400
(3 structures; 40 stories; 379 units) 151 1st Ave S
Second Avenue Partners
Illinois
Chicago
Institutional
Rush University Medical Center Ambulatory Building
856
$473
(3 structures; 11 stories) West Harrison St & Ashland Ave
Rush University Medical Center
Texas
Houston
Civil/Engineering
Permico Energia LLC. Permian Basin Natural Gas Liquids Pipeline
*
$2,000
(1 structure)
Permico Energia LLC
Austin
Commercial
Block 185 Building
802
$410
(2 structures; 38 stories) 601 W 2nd St
Trammell Crow - Austin Office
Wyoming
Saratoga
Civil/Engineering
Energy Vision 2020 Wind Power Station Upgrades
*
$3,100
(1 structure)
PacificCorp
Washington
Redmond
Commercial
Microsoft Campus Headquarters Expansion
3,000
$2,000
(3 structures) One Microsoft Way
Microsoft Corp
Seattle
Civil/Engineering
SR 520 Montlake to Lake Washington I/C and Bridge Replacement Project (Montlake Phase)
*
$455
(6 structures) WA-520
Washington State Department of Transportation (WSDOT)
TOTALS:
5,509
$10,262
*A square footage measure does not apply for alteration, some forms of industrial (e.g., petrochemical) and engineering/civil work.
Data source and table: ConstructConnect.