Top 10 Project Starts in the U.S. - March 2017
The accompanying table records the top 10 project starts in the U.S. for March 2017.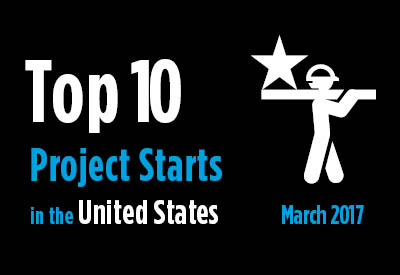 There are several reasons for highlighting upcoming large projects. Such jobs have often received a fair amount of media coverage. Therefore, people in the industry are on the lookout for when jobsite work actually gets underway. And, as showcase projects, they highlight geographically where major construction projects are proceeding.
Also, total construction activity is comprised of many small and medium-sized projects and a limited number of large developments. But the largest projects, simply by their nature, can dramatically affect total dollar and square footage volumes. In other words, the timing and size of these projects have an exaggerated influence on market forecasts.
Click here to download the Construction Industry Snapshot Package - March 2017 PDF.
Click here for the March 2017 Industry Snapshot article, Springy Bounce in ConstructConnect's March Starts, +18%.
Click here for the Nonresidential Construction Starts Trend Graphs - March 2017.
Top 10 project starts in the U.S. - March 2017
LOCATION
(East to

West)
TYPE OF
CONSTRUCTION
DESCRIPTION

Sq. Ft.
000s*

Dollars
000,000s

New York
New York
Commercial
Jacob K. Javits Convention Center Expansion
1,223
$1,500
(2 structures; 4 stories) 655 W 34th St
New York Convention Center Operating Corporation (NYCCOC)
New York
Commercial
Waldorf Astoria Renovation
*
$1,000
(44 stories) 100 E 50th St
Hilton Worldwide
Jamaica
Commercial
Resorts World Casino New York Expansion
3,151
$400
(1 structure) 100-00 Rockaway Blvd
Resorts World Casino New York
New Jersey
Roselle
Residential
Park Apartments at Roselle Phase 2
2,686
$350
(1 structure; 932 units) 417 Raritan Rd
Milton L Ehlrich, Inc
Florida
Orlando
Industrial
Princeton Oaks Industrial Park
231
$550
(1 structure; 1 story) Princeton St
Foundry Commercial LLC (CNL Commercial Real Estate)
Winter Haven
Industrial
Florida's Gateway
8,000
$400
(1 structure) 4100 Logistics Pkwy
GEM Realty Capital Inc
Tennessee
Nashville
Residential
Stephens Village West
223
$1,000
Townhomes (plus mixed-use hotel, retail, offices, etc.)
(5 structures; 216 units; 9 stories) 8423 Hwy 100 & 5948 Pasquo Rd
CPS Land (Developer)
Missouri
Clayton
Commercial
Centene Clayton Campus
4,974
$1,000
(5 structures; 57 stories) 7700 Forsyth Blvd
Centene Corporation
Minnesota
Hendricks
Engineering/Civil
Blazing Star Wind Farms
*
$300
Geronimo Energy
Washington
Airway Heights
Commercial
Spokane Tribe of Indians Casino
3,151
$400
(4 structures) Craig Rd at Hwy 2
Warner Hospitality
TOTALS:
23,639
$6,900
*A square footage measure does not apply for alteration and engineering/civil work.
Data source and table: ConstructConnect.