Top 10 Project Starts in the U.S. - March 2018
The accompanying table records the top 10 project starts in the U.S. for March 2018.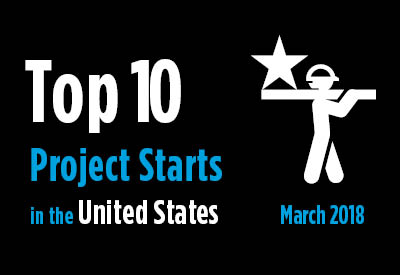 There are several reasons for highlighting upcoming large projects. Such jobs have often received a fair amount of media coverage. Therefore, people in the industry are on the lookout for when jobsite work actually gets underway. And, as showcase projects, they highlight geographically where major construction projects are proceeding.
Also, total construction activity is comprised of many small and medium-sized projects and a limited number of large developments. But the largest projects, simply by their nature, can dramatically affect total dollar and square footage volumes. In other words, the timing and size of these projects have an exaggerated influence on market forecasts.
Click here to download the Construction Industry Snapshot Package - March 2018 PDF.
Click here for the March 2018 Industry Snapshot article, ConstructConnect's March 2018 Starts Were +46% M/M but -22% YTD.
Click here for the Nonresidential Construction Starts Trend Graphs - March 2018.
Top 10 project starts in the U.S. - March 2018
LOCATION
(East to

West)
TYPE OF
CONSTRUCTION
DESCRIPTION

Sq. Ft.
000s*

Dollars
000,000s

West Virginia
Clarksburg
Engineering/Civil
Atlantic Coast Pipeline
*
$5,500
(1 structure) Multiple Locations
Dominion Power - Corporate Office
Florida
Bal Harbour
Commercial
Bal Harbour Shops Expansion
341
$400
(1 structure) 9700 Collins Ave
Whitman Family Development
Texas
Houston
Engineering/Civil
Replacement of the Existing Ship Channel Bridge and Approaches Consisting of Grading, Base, Concrete Pavement, Drainage Structures, Signing, Striping, and Bridge Structures
*
$962
(4 structures) Multiple Locations
Harris County Toll Road Authority
Dallas
Engineering/Civil
Southern Gateway Project - Texas Department of Transportation
*
$666
(2 structures) IH 35E and US 67
Texas Department of Transportation / Austin
La Porte
Industrial
Port Crossing Commerce Center
704
$378
(2 structures) S 16th St, Wharton Weems Blvd and State Hwy 146
Liberty Property Trust
Pecos
Engineering/Civil
Midway Solar Plant
*
$260
(2 structures)
Hanwha Q Cells EPC USA LLC / 174 Power Global Corp.
Washington
Bellevue
Commercial
E335 Downtown Bellevue to Spring District, Transport Terminal Alterations
*
$295
Multiple Locations
Sound Transit
Oregon
Eugene
Institutional
Knight Campus for Accelerating Scientific Impact - University of Oregon - Phase 1
225
$225
(2 structures) 1239 University St
University of Oregon
California
San Bernardino
Engineering/Civil
West of Devers Transmission Upgrade Project
*
$1,100
(1 structure) Multiple Locations
Southern California Edison
Irvine
Commercial
Spectrum Terrace, Offices
1,060
$226
(3 structures; 4 stories) Laguna Canyon Rd
Irvine Company
TOTALS:
2,330
$10,012
*A square footage measure does not apply for alteration, some forms of industrial (e.g., petrochemical) and engineering/civil work.
Data source and table: ConstructConnect.