Top 10 Project Starts in the U.S. - May 2017
The accompanying table records the top 10 project starts in the U.S. for May 2017.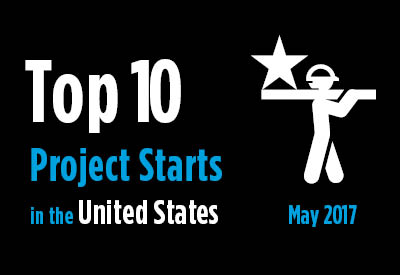 There are several reasons for highlighting upcoming large projects. Such jobs have often received a fair amount of media coverage. Therefore, people in the industry are on the lookout for when jobsite work actually gets underway. And, as showcase projects, they highlight geographically where major construction projects are proceeding.
Also, total construction activity is comprised of many small and medium-sized projects and a limited number of large developments. But the largest projects, simply by their nature, can dramatically affect total dollar and square footage volumes. In other words, the timing and size of these projects have an exaggerated influence on market forecasts.
Click here to download the Construction Industry Snapshot Package - May 2017 PDF.
Click here for the May 2017 Industry Snapshot article, ConstructConnect's Ytd Starts +2% after May's Rise of +5%.
Click here for the Nonresidential Construction Starts Trend Graphs - May 2017.
Top 10 project starts in the U.S. - May 2017
LOCATION
(East to

West)
TYPE OF
CONSTRUCTION
DESCRIPTION

Sq. Ft.
000s*

Dollars
000,000s

Massachusetts
Boston
Residential
Seaport Square Parcel M1M2
1,012
$800
(4 structures; 730 units) Seaport Blvd
WS Development
Pennsylvania
Philadelphia
Institutional
University of Pennsylvania Hospital Pavilion / West Philadelphia Campus
1,500
$1,500
(1 structure; 17 stories) 399 S 34th St
University of Pennsylvania - Division of Facilities and Real Estate Services
Florida
Orlando
Commercial
iSquare Mall and Hotel
1,600
$400
(4 structures; 34 stories; 536 units) 5600 International Dr
Blackmine Group
Pensacola
Engineering/Civil
SR 30 (US 98) Pensacola Bay Bridge Replacement (Br. No. 480035)
*
$399
FDOT: Contracts Administration - District 3
Ohio
Akron
Insititutional
Akron City Hospital Expansion - West Tower
300
$270
(2 structures; 6 stories) 525 E Market St
Summa Health System - Construction
Tennessee
Lebanon
Residential
The Venue at 109
1,535
$200
(1 structure; 708 units) Hwy 109
Carroll Homes
Illinois
Chicago
Residential
The Lincoln Common
1,100
$350
(5 structures; 7 stories; 1800 units) 2400 N Halsted
McCaffery Interests, Inc.
Louisiana
New Orleans
Commercial
Four Seasons Luxury Hotel and Condominiums Redevelopment
200
$360
(5 structures; 37 stories; 76 units) 2 Canal Place
Carpenter & Company, Inc.
California
Inglewood
Commercial
City of Champions Revitalization Project - Rams Stadium
3,000
$2,600
(3 structures) 1050 S Prairie Ave
Hollywood Park Land Company, LLC
Irvine
Engineering/Civil
I-405 Improvement Project
*
$1,900
Orange County Transportation Authority (OCTA)
TOTALS:
10,247
$8,779
*A square footage measure does not apply for alteration and engineering/civil work.
Data source and table: ConstructConnect.