Top 10 Project Starts in the U.S. - May 2019
The accompanying table records the top 10 project starts in the U.S. for May 2019.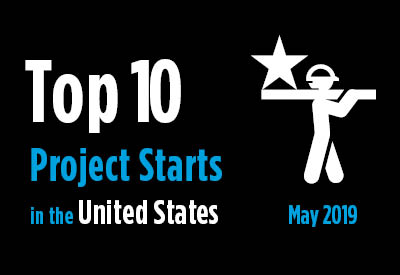 There are several reasons for highlighting upcoming large projects. Such jobs have often received a fair amount of media coverage. Therefore, people in the industry are on the lookout for when jobsite work actually gets underway. And, as showcase projects, they highlight geographically where major construction projects are proceeding.
Also, total construction activity is comprised of many small and medium-sized projects and a limited number of large developments. But the largest projects, simply by their nature, can dramatically affect total dollar and square footage volumes. In other words, the timing and size of these projects have an exaggerated influence on market forecasts.
Click here to download the Construction Industry Snapshot Package - May 2019 PDF.
Click here for the May 2019 Industry Snapshot article, Mega Projects Lift May U.S. Nonresidential Construction Starts by One-Third.
Click here for the Nonresidential Construction Starts Trend Graphs - May 2019.
Top 10 project starts in the U.S. - May 2019
LOCATION
(East to

West)
TYPE OF
CONSTRUCTION
DESCRIPTION

Sq. Ft.
000s*

Dollars
000,000s

Massachusetts
Boston
Commercial
L338 Terminal E Modernization - Massport
400
$800
(2 structures) 1 Harborside Dr
Massachusetts Port Authority (Massport)
Pennsylvania
Monongahela
Civil/Engineering
Lower Mon Project - Charleroi Dam Stilling Basin Extension
*
$1,685
Multiple Locations
US Army Corps of Engineers
Georgia
Commerce
Industrial
SK Innovation Factory, Motor Vehicle Battery Plant
10,962
$1,670
(1 structure)
SK Innovation
Ohio
Hannibal
Civil/Engineering
Long Ridge Energy Generation Project (formerly known as Center Port Terminal)
*
$500
(2 structures; 20 units)
Fortress Transportation and Infrastructure Investors LLC (FTAI)
Minnesota
Eden Prairie
Civil/Engineering
Green Line Light Rail Transit Extension (Southwest Light Rail Transit) Civil Construction
*
$2,000
Multiple Locations
Metropolitan Council Environmental Services (MCES)
Nebraska
Sutherland
Civil/Engineering
345 kV Transmission Line Project (Gerald Gentleman Station to Thedford and Thedford to Holt County)
*
$265
Multiple Locations
Nebraska Public Power District
Texas
Sabine Pass
Industrial
Golden Pass LNG Export Terminal
*
$10,000
(3 structures) 3752 S Gulfway Dr
Golden Pass Products
Washington
Seattle
Commercial
Lynnwood Link Extension - Sound Transit, Alterations
*
$3,200
(3 structures) Multiple Locations
Sound Transit
California
Friant
Commercial
New Table Mountain Rancheria Hotel & Casino
600
$300
(6 structures; 19 stories; 1651 units) Sky Harbour Dr & Millerton Rd
Table Mountain Rancheria
Hawaii
Ewa Beach
Commercial
Wai Kai at Hoakalei
295
$300
(5 structures; 150 units) 91-1621 Keoneula Boulevard
Haseko Development
TOTALS:
12,257
$20,720
*A square footage measure does not apply for alteration, some forms of industrial (e.g., petrochemical) and engineering/civil work.
Data source and table: ConstructConnect.