Top 10 Project Starts in the U.S. - November 2017
The accompanying table records the top 10 project starts in the U.S. for November 2017.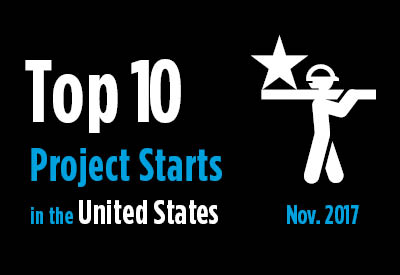 There are several reasons for highlighting upcoming large projects. Such jobs have often received a fair amount of media coverage. Therefore, people in the industry are on the lookout for when jobsite work actually gets underway. And, as showcase projects, they highlight geographically where major construction projects are proceeding.
Also, total construction activity is comprised of many small and medium-sized projects and a limited number of large developments. But the largest projects, simply by their nature, can dramatically affect total dollar and square footage volumes. In other words, the timing and size of these projects have an exaggerated influence on market forecasts.
Click here to download the Construction Industry Snapshot Package - November 2017 PDF.
Click here for the November 2017 Industry Snapshot article, Mega Project Drop Undercuts ConstructConnect's November Starts; Ytd Still Strong.
Click here for the Nonresidential Construction Starts Trend Graphs - November 2017.
Top 10 project starts in the U.S. - November 2017
LOCATION
(East to

West)
TYPE OF
CONSTRUCTION
DESCRIPTION

Sq. Ft.
000s*

Dollars
000,000s

New York
Kiryas Joel (Monroe)
Residential
Veyoel Moshe Gardens Phase - 1
2,316
$302
(1 structure; 800 units) Nininger Rd and Dunderberg Rd
Mym Management Corp
Bronx
Engineering/Civil
Replacement of Bruckner Expressway (S.r.) Over Westchester Creek (Unionport Bridge), Borough of the Bronx
*
$232
(4 structures) Bruckner Expressway
NYC Department of Transportation
Maryland
Bethesda
Residential
Apex Building Redevelopment
937
$245
(4 structures; 23 stories; 1210 units) 7272 Wisconsin Ave
Carr Properties
North Carolina
Arden
Engineering/Civil
Western Carolinas Modernization Project
*
$1,100
(1 structure) 10 Cp and L Dr
Duke Energy
Ohio
New Albany
Commercial
Facebook Data Center
900
$750
(1 structure) Beech Rd and Rte 161
Facebook Inc. - Corporate Headquarters
Missouri
Lee's Summit
Residential
Meridian at View High / Lee's Summit
479
$225
(1 structure; 312 units) 11345 View High Dr
Cityscape Residential
Oklahoma
Oklahoma City
Institutional
New Patient Tower - University of Oklahoma Medical Center
450
$200
(1 structure; 8 stories) 700 NE 13th St
OU Medical Center
Colorado
Elbert
Engineering/Civil
Xcel Energy Rush Creek Wind
*
$1,000
(1 structure) multiple locations
Xcel Energy / Fort Collins
California
Carlsbad
Engineering/Civil
Carlsbad Energy Center
*
$2,200
(1 structure) I-5 and Cannon Rd
NRG Energy, Inc.
San Jose
Residential
Miro (fka SJSC Towers and Peregrine Towers)
1,141
$345
(4 structures; 32 stories; 610 units) 167 E Santa Clara St (39N 5th St)
SJSC Properties LLC
TOTALS:
6,223
$6,599
*A square footage measure does not apply for alteration, some forms of industrial (e.g., petrochemical) and engineering/civil work.
Data source and table: ConstructConnect.