March ABI Shows Strong Increase in Architecture Billings
The Architecture Billings Index (ABI) had a nice jump in demand for design services in March with a score of 54.3, per the latest report from the American Institute of Architects. That's a fairly big increase from February's score of 50.7. The ABI is important to keep an eye on as a leading indicator of future nonresidential construction work. The average lead time is nine months to a year between billings and construction spending. For the ABI, scores above 50 indicate an increase in billings and scores below 50 indicate a decrease.

The first quarter of 2017 didn't get off to the best start with a score of 49.5 in January, but got back above 50 and March's score was the second highest in the past twelve months.
"The strong improvement in the ABI provides corroboration for the good news that was reported in the latest Employment Situation Report from the Bureau of Labor Statistics. The number of jobs with design firms in March rose by a healthy +0.5% month to month, lifting total positions in the industry to 1.45 million, which matches the previous peak achieved prior to the Great Recession," said ConstructConnect Chief Economist Alex Carrick.
"While total staffing in the U.S. was +1.5% year over year in March, design services enterprises added to payrolls at a pace that was more than twice as fast, +3.5%," noted Carrick. "Projects must be contemplated by owners, then turned into working drawings by designers, before construction field work can begin. Hopefully, the positive leading indicators from the architectural and engineering community signal that a long-awaited vigorous revival in construction activity will soon be underway. There's a lot of catching up to do."
The new projects inquiry index remained strong in March with a 59.8 but was down from February's 61.5. The design contracts index, an indicator of future billings, dropped from a 54.7 in February to 52.3 for March. Both are still above 50 so it's a positive sign for future ABI scores.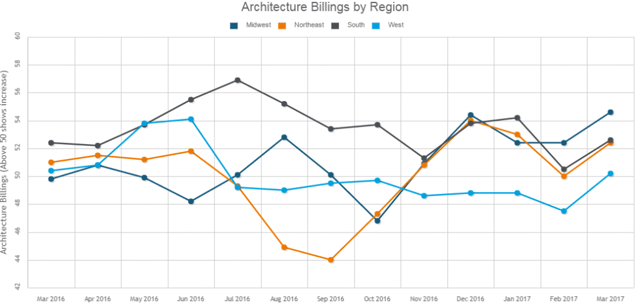 All regions were back in positive territory with their moving three-month averages. The Midwest increased from a 52.4 last month to a 54.6 in March. The South improved from 50.5 to 52.6. The Northeast climbed from a 50.0 in February to 52.4. The West region finally got back into positive territory in March going from a 47.5 to 50.2.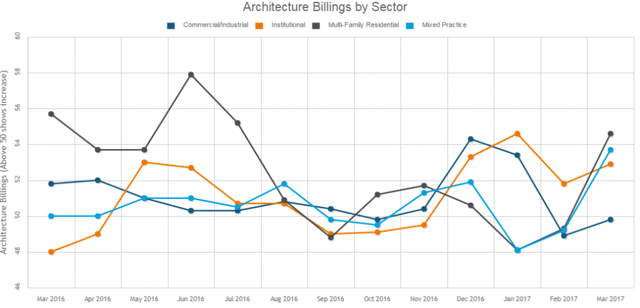 Looking at the sector three-month averages for March, Multi-Family Residential had a nice jump from 49.3 last month to 54.6. Mixed Practice also got back above 50, climbing from a 49.2 in February to 53.7 in March. The Institutional sector improved from 51.8 to 52.9 in March. Commercial/Industrial saw some improvement going from 48.9 in February to 49.8 in March, just below the 50 mark.