November's ABI Score is Highest of the Year
The Architecture Billings Index (ABI) hit its highest mark of the year with a score of 55.0 in November. This is a significant increase from the 51.7 in October and is the strongest growth we've seen all year. For the ABI, scores above 50 indicate an increase in billings, while scores below 50 indicate a decrease.

With the exception of January and September, billings have shown an increase in design services every month of 2017, a great sign for strong construction activity in 2018. The Architecture Billings Index (ABI) is a leading indicator of future nonresidential construction activity. The average lead time between architecture billings and construction spending is usually between nine months to a year.
The new projects inquiry index for November increased from 60.2 to 61.1. The new design contracts index increased from 52.8 in October to 53.2 in November. Both of these indices have had strong scores all year.
The regional averages for demand for design services show that demand for design services was up all across the country. All regions reported increases in design activity with scores above 50.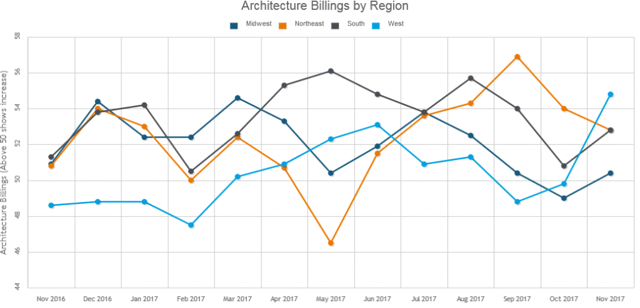 The West had an impressive jump back into positive territory, going from 49.8 in October to 54.8, leading all regions. The Northeast dropped a bit again in November to 52.8, but still showed growth, after October's score of 54.0. The South had a nice two-point increase from 50.8 to 52.8. The Midwest got back on track with a 50.4 after a score of 49.0 in October.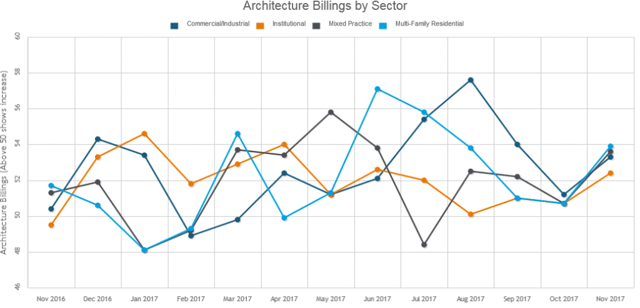 As we saw with the regional averages, all sectors of construction showed increased demand for design services in November. All sectors also improved their scores from October. Multi-Family Residential had the biggest increase in November, going from 50.7 to 53.9. Mixed Practice, which also had a score of 50.7 in October, was next with a score of 53.6. Commercial/Industrial improved from a 51.2 to a 53.3 in November. Institutional increased from 50.7 in October to 52.4.