September Brings Decrease for Design Services in Latest ABI Report
After seven consecutive months of increases in design services, the Architecture Billings Index (ABI) took a step back, falling to 49.1 from 53.7 in August. September's score indicates a decrease in demand for design for the first time this year since January according to the latest report from the American Institute of Architects (AIA). For the ABI, scores above 50 indicate an increase in billings, while scores below 50 indicate a decrease. While the decrease isn't welcome, demand for architectural services has been strong all year so this shouldn't be a huge cause for alarm at this point.

The Architecture Billings Index (ABI) acts as a barometer to forecast future nonresidential construction activity. The average lead time between architecture billings and construction spending typically ranges between nine months to a year.
Despite September's drop in demand for design services, the new projects inquiry index remained strong at 59.0, down from August's 62.5, but still indicating an increase. The new design contracts index also declined from 54.2 to 52.0 which is still in positive territory.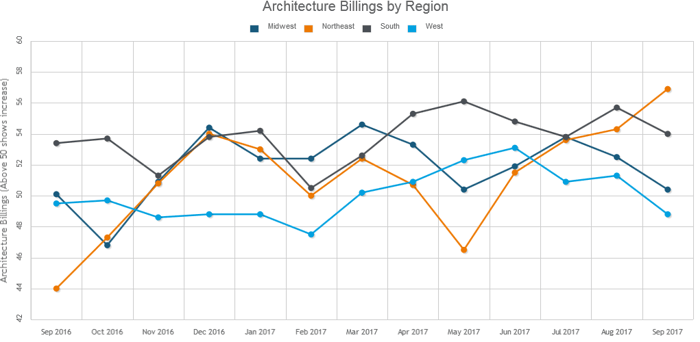 Most areas of the country are still reporting strong demand for design services. The Northeast saw another nice jump in September, increasing from 54.6 to 56.9. The South had the next highest score with 54.0, which is down slightly from August's score of 55.7. The Midwest manages to stay in positive territory with a 50.4 after a score of 52.5 the previous month. The West was the only region to drop below 50 and indicate a decrease in design services with a score of 48.8, down from 51.3 in August.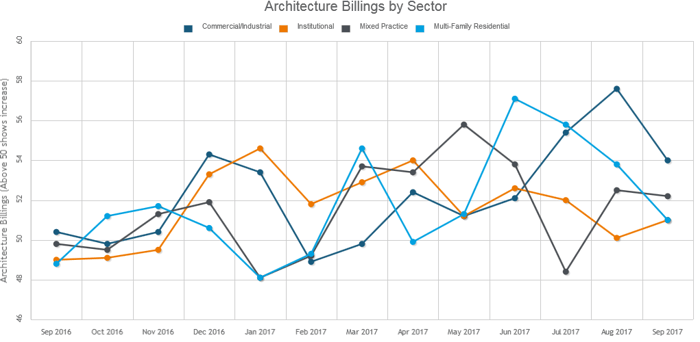 Another good sign is that all sectors remained in positive territory for September. The Commercial/Industrial eased a bit from 57.6 in August to 54.0 last month. Mixed Practice which had just gotten back above 50 in August with 52.5, had a score of 52.2 in September. Multi-Family Residential and Institutional both came in with a score of 51.0 in September. For Multi-Family Residential this is a decrease from August's 53.8 but an increase for Institutional which was at 50.1 last month.