September's So-So U.S. Jobs Report Overshadowed by Latest COVID-19 News
A Deceleration in Jobs Increases
The total number of U.S. jobs in September, according to the latest Employment Situation report from the Bureau of Labor Statistics (BLS), rose by +661,000. An increase of nearly two-thirds of a million, on first blush, sounds wonderful. But it needs to be placed in perspective.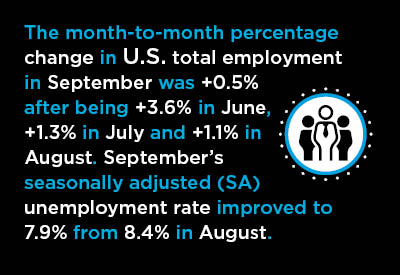 The +661,000 gain continues the deceleration in jobs generation that has been underway since June. The net jobs increases over the latest four months have been +4.8 million, +1.8 million, +1.5 million, and most recently, +661,000.
The month-to-month percentage change in U.S. total employment in September was +0.5% after being +3.6% in June, +1.3% in July, and +1.1% in August.
September's seasonally adjusted (SA) unemployment rate improved to 7.9% from 8.4% in August. In September 2019, the SA jobless figure was only 3.5%.
As for the outlook for jobs creation in the new month we've just entered, October, it's taken some severe hits right off the bat. On the 1st of October, United and American Airlines announced a combined jobs-cut tally of -32,000. On this, the second day of the month, there's been the shocking revelation that President Trump and Melania have been infected with the coronavirus.
Lately, more than half of U.S. states have been seeing increases in their COVID-19 cases, often sidelining reopening efforts. And the jury is still out on whether a return to classrooms can be achieved with minimal risk of illness.
Health authorities earlier this year warned of a fall flu and virus season that would come as a rude shock after a somewhat calmed-down summer. Their worries have proven valid.
Graph 1: U.S.: Month-to-month Total Employment Change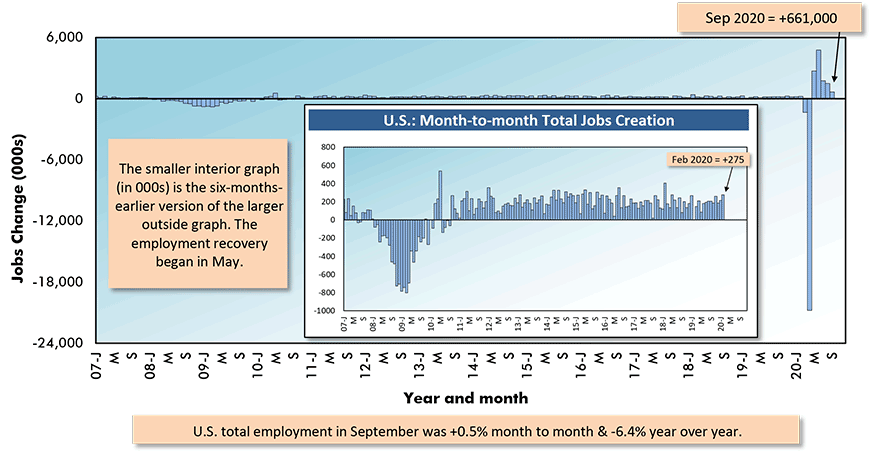 Latest data point is for September, 2020.
Data source: Payroll Survey, U.S. Bureau of Labor Statistics (BLS).
Chart: ConstructConnect.
Total Jobs Recovery Ratio Still Under Half
Table 1 monitors the recovery in U.S. employment by 'total' and key industrial sectors. There were huge job losses economy-wide between February and April. May, however, marked the beginning of a turnaround.
Versus February (i.e., the last pre-COVID-19 'normal' month), total jobs in April were -13.5%. Now, they're -7.0%. In nominal terms, a jobs count that was -20.5 million has now become -10.7 million. (The math says 9.8 million jobs have been recovered.)
From the final column of Table 1, the jobs-recovery ratio (or jobs 'claw-back' ratio, as a more colorful form of expression) is now 47.7%, up from 43.8% in August. But 47.7% is still less than half.
What's the claw-back ratio that will make everyone feel more relaxed about the progress being made to restore better times once again. I suspect it will need to be at least 80%.
After a workforce increase of +26,000 in September, construction's employment claw-back ratio now sits at 59.6%, second best among all industrial sectors.
Retail, which includes e-based sales, has the highest claw-back ratio, 77.1%.
The recovery in the overall economy is quite uneven from one pocket of activity to another. But thanks to income support programs for the disadvantaged, and a large increase in the savings rate among the relatively well-off, retail spending has returned with a roar. It's one of the few sectors that can lay claim to a V-shaped bounce back.
'Leisure and hospitality's' claw-back ratio is about half (49.8%), but the jobs count in the sector is still down by nearly one-quarter (-22.8%) compared with the kickoff months of this year.
Table 1: Monitoring the U.S. Employment Recovery - September 2020

Data source: Bureau of Labor Statistics (BLS).
Chart: ConstructConnect.
Construction Workers Fare Poorly in Compensation Sweepstakes
The not seasonally adjusted (NSA) unemployment rate in construction in September was 7.1%, down from 7.6% in August. But only a year ago, in September 2019, construction was experiencing one of its tightest jobless rates on record, 3.2%.
Finally, construction workers aren't faring well in the compensation sweepstakes. Whereas year-over-year pay hikes for all jobs (and including supervisory personnel) in the U.S. economy in September were +4.7% hourly and +5.6% weekly, for construction workers the comparable climbs were +3.1% and +0.8%.
Excluding bosses, the wide-spectrum earnings gains were +4.6% hourly and +6.2% weekly. The hard hat contingent, however, was looking at just +1.5% hourly and, sad to say, -0.5% weekly.
---
Be sure to check out our Economic Resources for the latest construction economic news, forecasts, and webinars.
About Alex Carrick
Alex Carrick is Chief Economist for ConstructConnect. He has delivered presentations throughout North America on the U.S., Canadian and world construction outlooks. Mr. Carrick has been with the company since 1985.
See Related Posts
Economic News