The Economy, Changing Construction Processes, and Virtual Marketing Tools
Over the past three decades, construction processes have shifted away from the traditional to more collaborative and efficient workflows. As a result, building product manufacturers have had to change the way they market their wares.
Let's take a closer look at the market and economic drivers behind this shifting reality.
Changing Economic Environment
Before the financial crisis of 2008, traditional construction processes like Design-Bid-Build were still dominant. But they were slowly giving way to more collaborative workflows. Much of this had to do with risk and the apprehension to share it.
With the banking crisis of 2008, construction slowed down dramatically. This made the competition for projects in the architecture, engineering, construction, and operation (AECO) space more intense as the industry saw declines of more than 50% in nonresidential construction in 2009, 2010, and 2011.
Steep declines in new construction gave way to a substantial increase in the renovation and retrofit (R&R) of existing buildings, with new construction at 82% of starts value in 2005, declining to as little as 57% in 2012. R&R inversely increased from 18% of starts value in 2005 to 43% in 2012.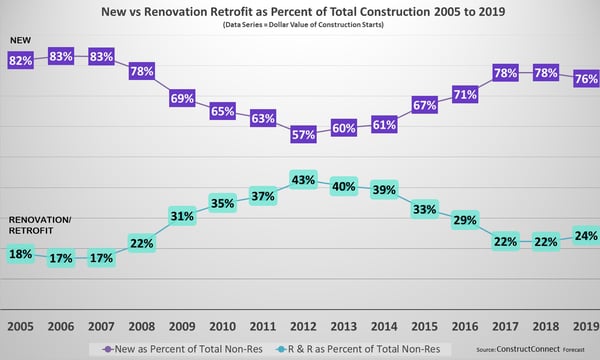 As a result, this loss in construction value had a negative impact on construction employment. But no profession was more decimated than the architectural community. With the demand for new square footage so constricted, architectural unemployment soared to over 30% nationally and as high as 50% in cities like Chicago.
Necessity is the Mother of Invention
With the smaller, but still real demand for new buildings and the increased appetite for additions and renovations, construction companies that operated singularly as general contractors took advantage of the newly available architectural talent and became either formally, or informally design-build firms.
These companies quickly morphed into a virtual one-stop-shop for owners, with in-house design and engineering services and even self-performing many trades.
So, what had been a slower adaptation toward more efficient construction processes like Design-Build (the design-build team works under a single contract with the project owner to provide design and construction services), Integrated Project Delivery (agreed shared risk between the owner, primary designer, and primary builder), and Construction Manager (CM) at Risk (the construction manager receives a guaranteed maximum price) quickly became more in vogue. Still quite prevalent for certain types of construction, Design-Bid-Build, was and still is being replaced by these newer, more collaborative, cost-effective, speedier, and less siloed project workflows.
The commonality between all three of these collaborative processes, outside of Design-Bid-Build, is more contractor involvement in building design and product selection. This makes the need for multichannel marketing and sales execution on the part of building product manufacturers more critical.
These processes bring with them things like Guaranteed Maximum Prices (GPM) to the contractor and/or construction managers having to put more price pressure on the manufacturer's supply chain. This falls to subcontractors and distributors to deliver the lowest-priced products that meet the specifications (Value Engineering).
More Pressure for Defendable, Nonproprietary Specifications
As I have written in the past, any specification is better than no specification, because the general contractor will ask for bids on products that are listed in the specifications from your customers. With the more efficient, contractor-driven project workflows, it has become critical to have a specification that can be defended by the architect, engineer, or specification writer to avoid becoming value-engineered out the project.
It is always preferred to be Basis of Design (BOD), but not identified as a "No Substitution" specification. Architects do not like "No Substitution" and will name your competitors, (perhaps much lower-priced) as approved equals without your input, which could put you in an impossible situation on bid day.
Today your marketing toolkit should include:
Basis of Design Specifications – include two or three of your competitors that you want as equals.
Created BIM Models – if your architectural and contractor customers are using brand-specific models.
Lunch and Learns – virtual events that let the specifiers know where they can find your specifications.
MasterSpec, Product MasterSpec, or similar third-party providers – these can publish content on your website to include BIM models, your specs, and catalog cut sheets.
A multichannel sales and communications strategy to indirect influencers (owners, architects, and engineers) and direct influencers (general contractors, subcontractors, and suppliers) – touchpoints on all involved throughout the project cycle.
A business intelligence platform – will alert you to a project specification and allow your sales team to follow the specification past bid to award.
As in 2008, we are seeing another economic downturn greatly impact our industry. COVID-19 is changing the way we interact with our customers, prohibiting in-person trade shows, appointments, and lunch and learns.
It has become more critical than ever to make your product information virtually accessible to our AECO customers. To increase sales, building product manufacturers must make product information as trustworthy, measurable, defendable, and actionable as possible. As we come to the other side of COVID-19, it will be interesting to assess the increased value of virtual online marketing tools.
---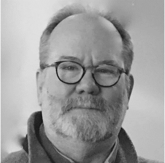 With over 30 years of industry experience, Doug Bevill - Vice President at ConstructConnect, specializes in consulting with building product manufacturers on general strategy and optimal ways to leverage ConstructConnect's best-in-class construction information and other marketing solutions to run their businesses.
Prior to joining ConstructConnect, Doug held executive positions with FläktGroup SEMCO, a leading manufacturer on energy recovery technology; The Hager Companies, a global door hardware manufacturer; and is the past president of BIMobject Inc., a global construction technology company.
---
See Related Posts
Operating Insights
Operating Insights, COVID-19
Construction Technology, Construction Safety, Operating Insights