Top 10 Largest Construction Project Starts in Canada and Trend Graph - August 2019
The accompanying table records the 10 largest construction project starts in Canada in August 2019. Also included is the latest trend graph on starts. This looks at 12-month moving totals of the civil and non-residential building categories in Canada.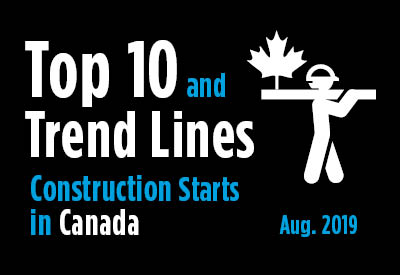 There are several reasons for highlighting upcoming large projects. Such jobs have often received a fair amount of media coverage. Therefore, people in the industry are on the lookout for when jobsite work actually gets underway. And, as showcase projects, they highlight geographically where major construction projects are proceeding.
Also, total construction activity is comprised of many small and medium-sized projects and a limited number of large developments. But the largest projects, simply by their nature, can dramatically affect total dollar and square footage volumes. In other words, the timing and size of these projects have an exaggerated influence on market forecasts.
Top 10 construction projects of the month - August 2019
REGION
(East to
West)
TYPE OF
CONSTRUCTION
DESCRIPTION

Sq. Ft.
000s

Dollars
000,000s

Newfoundland and Labrador
Corner Brook
Institutional
Design/Build - Corner Brook Acute Care Hospital Project
600
$750
(2 structures; 7 storeys; 164 units) Lewin Pkwy
Department of Transportation and Works/Plenary Group
Quebec
Mont-Royal
Commercial
Royalmount Mega-Mall
4,000
$1,700
(5 structures; 29 storeys) ave Royalmount
Carbonleo
Montréal
Commercial
Centre de Transport Bellechasse
648
$254
(5 structures; 1 storey; 6 units) rue de Bellchasse
Société de Transport de Montréal - STM
Mont-Royal
Industrial
Design-Build Montréal-Est Organic Material Processing Centre
370
$130
(3 structures; 4 storeys) autoroute 40
Ville de Montréal
Ontario
Toronto
Engineering/Civil
Ashbridges Bay Treatment Plant Integrated Pumping Station - Construction Contract No 2
*
$135
(2 structures) 9 Leslie St
City of Toronto
Saskatchewan
Carrot River
Engineering/Civil
EB Campbell Hydroelectric Station Alterations
*
$133
(1 structure) near Carrot River
SaskPower
Alberta
Edmonton
Residential
Ice District - Block B/G Mixed Use Development
750
$200
(4 structures; 43 storeys; 589 units) 102 St NW & 103 Ave NW
ICE District Properties/ONE Properties/Katz Group
British Columbia
Vancouver
Commercial
Centerm Expansion and South Shore Access Project
43
$454
(3 structures; 2 storeys) Heatley Ave
DP World Americas/Vancouver Fraser Port Authority/Port Metro Vancouver
Burnaby
Residential
Concord Brentwood Phase 1B - Hillside East
900
$165
(2 structure; 55 storeys; 900 units) 4880 Lougheed Hwy
Concord Pacific
Prince Rupert
Engineering/Civil
Fairview-Ridley Connector Road
*
$100
(2 structures)
Prince Rupert Port Authority
TOTALS:
7,311
$4,021
*A square footage measure does not apply for alteration and engineering work.
Data source and table: ConstructConnect – CanaData.
Trend lines of construction starts in Canada – August 2019
Moving totals of the latest 12 months*
(ConstructConnect Insight Forecast Figures)

*For example, the August 2019 figure is the sum of the monthly numbers for September 2018 through August 2019.
Data source and chart: ConstructConnect Insight – CanaData.