Top 10 Largest Construction Project Starts in Canada and Trend Graph - August 2020
The accompanying table records the 10 largest construction project starts in Canada in August 2020. Also included is the latest trend graph on starts. This looks at 12-month moving totals of the civil and nonresidential building categories in Canada.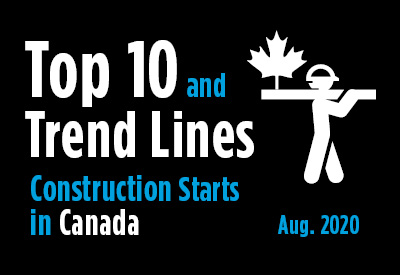 There are several reasons for highlighting upcoming large projects. Such jobs have often received a fair amount of media coverage. Therefore, people in the industry are on the lookout for when jobsite work actually gets underway. And, as showcase projects, they highlight geographically where major construction projects are proceeding.
Also, total construction activity is comprised of many small and medium-sized projects and a limited number of large developments. But the largest projects, simply by their nature, can dramatically affect total dollar and square footage volumes. In other words, the timing and size of these projects have an exaggerated influence on market forecasts.
Top 10 construction projects of the month - August 2020
REGION
(East to
West)
TYPE OF
CONSTRUCTION
DESCRIPTION

Sq. Ft.
000s

Dollars
000,000s

Nova Scotia
Halifax
Institutional
Queen Elizabeth II New Generation Halifax Infirmary Expansion Project
1,300
$259
(4 structures; 13 storeys) 1276 South Park St
Nova Scotia Department of Internal Services
New Brunswick
Moncton
Institutional
Nouvelle Ecole Moncton M-8 et Garderie
129
$40
(2 structures; 3 storeys) 618 Chemin McLaughlin Rd
New Brunswick Transporation and Infrastructure
Quebec
Montreal
Engineering/Civil
Construction of Édouard-Montpetit Infrastructures
*
$45
(5 structures) Multiple Locations
Société de transport de Montréal
Ontario
Toronto
Residential
55C Bloor Yorkville Residences - Mixed-Use Tower
486
$90
(3 structures; 48 storeys; 551 units) 55 Charles St E
MOD Developments Inc
Bolton
Industrial
Anatolia Capital - Phase 3 Industrial Expansion
534
$66
(1 structure; 1 storeys) 100 Pillsworth Rd
Anatolia Tile & Stone Inc
Toronto
Commercial
T3 Bayside - Office Building, Phase One
250
$65
(2 structures; 11 storeys) 255 Queens Quay E
Hines
Cloyne
Commercial
Road 96 - Grading, Drainage, Granular Base, Hot Mix Pavement, Landscaping, Electrical, Structural, Mechanical, Buildings, Facilities, Communications/IT
*
$63
(5 structures) County Rd 96
Ministry of Transportation of Ontario
Ottawa
Residential
George Street Condominium
300
$55
(1 structure; 22 storeys; 282 units) 141 George St
Claridge Homes Group of Companies
Toronto
Engineering/Civil
Basement Flooding Protection Program, Phase 4
*
$44
(1 structure) Multiple Locations
City of Toronto
Alberta
Edmonton
Engineering/Civil
Metro Line LRT Phase 1 - Nait to Blatchford Extension
*
$328
(2 structures) Multiple Locations
City of Edmonton
TOTALS:
2,999
$1,055
*A square footage measure does not apply for alteration and engineering work.
Data source and table: ConstructConnect – CanaData.
Trend lines of construction starts in Canada – August 2020
Moving totals of the latest 12 months*
(ConstructConnect Insight Forecast Figures)

*For example, the August 2020 figure is the sum of the monthly numbers for September 2019 through August 2020.
Data source and chart: ConstructConnect Insight – CanaData.
---
Interactive Visual
---
View this video to see how to use the filters in the Interactive Visual.
---