Top 10 Largest Construction Project Starts in Canada and Trend Graph - February 2020
The accompanying table records the 10 largest construction project starts in Canada in February 2020. Also included is the latest trend graph on starts. This looks at 12-month moving totals of the civil and non-residential building categories in Canada.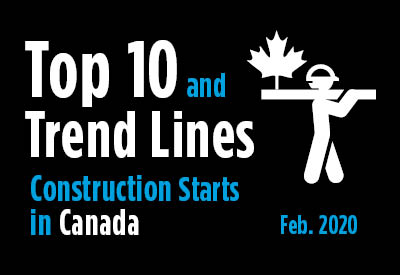 There are several reasons for highlighting upcoming large projects. Such jobs have often received a fair amount of media coverage. Therefore, people in the industry are on the lookout for when jobsite work actually gets underway. And, as showcase projects, they highlight geographically where major construction projects are proceeding.
Also, total construction activity is comprised of many small and medium-sized projects and a limited number of large developments. But the largest projects, simply by their nature, can dramatically affect total dollar and square footage volumes. In other words, the timing and size of these projects have an exaggerated influence on market forecasts.
Top 10 construction projects of the month - February 2020
REGION
(East to
West)
TYPE OF
CONSTRUCTION
DESCRIPTION

Sq. Ft.
000s

Dollars
000,000s

Quebec
Saint-Leonard
Residential
Néo Condos
85
$25
(2 structures; 8 storeys; 74 units) 5200, rue Jean-Talon
Les Entreprises QMD Inc/Habitations Syvain Menard inc
Ontario
Toronto
Commercial
Arthur Meighen Building Rehabilitation
*
$277
(2 structures) 25 St Clair Ave E
Public Services and Procurement Canada
Toronto
Residential
543 Richmond Street Condominium
840
$150
(3 structures; 15 storeys; 476 units) 543 Richmond St W
The Pemberton Group - Muzzo Group of Companies
North York
Residential
T1 at M2M - Newtonbrook Plaza Redevelopment - Towers 1 and 2 (Phase One)
769
$145
(4 structures; 36 storeys; 810 units) 5915 Yonge St
Ontario Aoyuan Property Limited
Toronto
Residential
Peter and Adelaide Condos
533
$100
(3 structures; 47 storeys; 696 units) 354 Adelaide St W
Graywood Developments
Oshawa
Industrial
Industrial Buildings One and Two - Thornton Road South
633
$75
(1 structure; 1 storey) 1121 Thornton Rd S
Panattoni Developments
Hamilton
Industrial
The Park - Warehouse on Aeropark Blvd / Hamilton
265
$30
(2 structures; 2 storeys) 50 Aeropark Blvd
Panattoni Developments
North York
Commercial
TRCA Administrative Office Building
85
$30
(3 structures; 4 storeys) 5 Shoreham Dr
Toronto and Region Conservation Authority
Ottawa
Residential
Fifth and Bank - Rental Building
126
$24
(2 structures; 7 storeys; 163 units) 99 Fifth Ave
Minto Developments Inc
Alberta
Calgary
Institutional
Calgary Centre for Child and Adolescent Mental Health (CCAMH)
35
$27
(1 structure; 3 storeys) 1005 17a St NW
Alberta Health Services
TOTALS:
3,371
$883
*A square footage measure does not apply for alteration and engineering work.
Data source and table: ConstructConnect – CanaData.
Trend lines of construction starts in Canada – February 2020
Moving totals of the latest 12 months*
(ConstructConnect Insight Forecast Figures)

*For example, the February 2020 figure is the sum of the monthly numbers for March 2019 through February 2020.
Data source and chart: ConstructConnect Insight – CanaData.