Top 10 Largest Construction Project Starts in Canada and Trend Graph - January 2020
The accompanying table records the 10 largest construction project starts in Canada in January 2020. Also included is the latest trend graph on starts. This looks at 12-month moving totals of the civil and nonresidential building categories in Canada.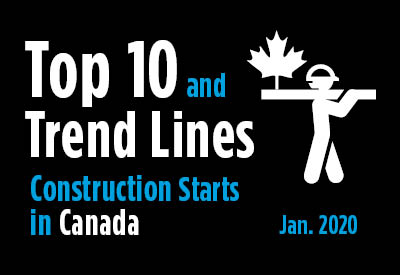 There are several reasons for highlighting upcoming large projects. Such jobs have often received a fair amount of media coverage. Therefore, people in the industry are on the lookout for when jobsite work actually gets underway. And, as showcase projects, they highlight geographically where major construction projects are proceeding.
Also, total construction activity is comprised of many small and medium-sized projects and a limited number of large developments. But the largest projects, simply by their nature, can dramatically affect total dollar and square footage volumes. In other words, the timing and size of these projects have an exaggerated influence on market forecasts.
Interactive Visual
Top 10 construction projects of the month - January 2020
REGION
(East to
West)
TYPE OF
CONSTRUCTION
DESCRIPTION

Sq. Ft.
000s

Dollars
000,000s

Quebec
Quebec
Engineering/Civil
Provincial / Various Positions - Electrical Construction Work and Services
*
$60
(1 structure) multiple locations
Hydro-Québec
Ontario
Toronto
Commercial
Front Street West Commercial Tower
1,212
$1,000
(3 structures; 46 storeys) 160 Front St W
Cadillac Fairview Corporation Ltd
Toronto
Residential
YSL Residences (Yonge Street Living)
1,011
$185
(6 structures; 85 storeys; 195 units) 363 Yonge St
Cresford Developments
Toronto
Institutional
SickKids Project Horizon - New Patient Support Centre
500
$111
(3 structures; 23 storeys) 175 Elizabeth St
The Hospital for Sick Children
Toronto
Residential
Hyatt Place Hotel / The 203 Residences on Jarvis
226
$50
(5 structures; 32 storeys; 419 units) 203 Jarvis St
Manga Hotels Inc
Alberta
Edmonton
Residential
Tamarack Grove on 17th Residential Development Buildings 1-3
259
$50
(3 structures; 6 storeys; 347 units) Tamarack Way NW
Deveraux Developments Ltd (Owner's Rep)
Edmonton
Residential
CX Grandin Tower
230
$42
(2 structures; 21 storeys; 222 units) 10022 110 St NW
Beaverbrook Developments Inc
British Columbia
Vancouver
Commercial
B6 Office Tower
562
$185
(4 structures; 32 storeys) 1090 W Pender St
BentalGreenOak
New Westminster
Residential
618 Carnarvon Street Mixed-Use Development
266
$49
(3 structures; 33 storeys; 262 units) 618 Carnarvon St
gBL Architects (Owner's Rep)
Surrey
Residential
Parker Apartments
192
$36
(1 structure; 4 storeys; 218 units) 10558, 10576, 10596, 10604 - 139 St
Mosaic Homes Inc
TOTALS:
4,458
$1,768
*A square footage measure does not apply for alteration and engineering work.
Data source and table: ConstructConnect – CanaData.
Trend lines of construction starts in Canada – January 2020
Moving totals of the latest 12 months*
(ConstructConnect Insight Forecast Figures)

*For example, the January 2020 figure is the sum of the monthly numbers for February 2019 through January 2020.
Data source and chart: ConstructConnect Insight – CanaData.