Top 10 Largest Construction Project Starts in Canada and Trend Graph - July 2020
The accompanying table records the 10 largest construction project starts in Canada in July 2020. Also included is the latest trend graph on starts. This looks at 12-month moving totals of the civil and nonresidential building categories in Canada.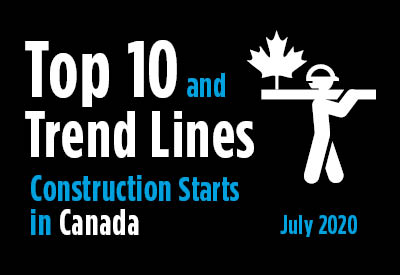 There are several reasons for highlighting upcoming large projects. Such jobs have often received a fair amount of media coverage. Therefore, people in the industry are on the lookout for when jobsite work actually gets underway. And, as showcase projects, they highlight geographically where major construction projects are proceeding.
Also, total construction activity is comprised of many small and medium-sized projects and a limited number of large developments. But the largest projects, simply by their nature, can dramatically affect total dollar and square footage volumes. In other words, the timing and size of these projects have an exaggerated influence on market forecasts.
Top 10 construction projects of the month - July 2020
REGION
(East to
West)
TYPE OF
CONSTRUCTION
DESCRIPTION

Sq. Ft.
000s

Dollars
000,000s

Quebec
Montreal
Residential
1 Square Phillips - Phase 1 (Mixed-Use Condominium)
1,313
$400
(3 structures; 61 storeys; 800 units) 1201, pl Phillips
Groupe Brivia
Saint-Laurent
Engineering/Civil
Design/Build Pont Champlain Bridge Deconstruction
*
$226
(2 structures) av Atwater
Jacques Cartier and Champlain Bridges Incorporated
Quebec
Engineering/Civil
Promenade Samuel-de-Champlain - Phase III
*
$160
(2 structures) boul Champlain
Société québécoise des infrastructures SQI
Ontario
Nepean
Industrial
Second Amazon Distribution Centre / Ottawa (Project Python)
2,720
$320
(2 structures; 5 storeys) 222 Citigate Dr
Broccolini Construction (Owner's Rep)
Markham
Institutional
York University Markham Centre Campus Phase 1
400
$276
(2 structures; 10 storeys; 4200 units) Rivis Rd & Enterprise Blvd
York University
Mississauga
Residential
EX1 - Exchange District Condos - Phase One
1,000
$185
(1 structure; 60 storeys; 1000 units) 151 City Centre Dr
Camrost-Felcorp
Oshawa
Residential
UC Tower / Oshawa
700
$128
(1 structure; 25 storeys; 503 units) 2535 Thoroughbred St
Tribute Communities
Toronto
Residential
King Toronto - Condos
500
$92
(3 structures; 17 storeys; 514 units) 489 King St W
Allied Properties REIT
London
Residential
Fullarton Street Tower - Phase One
435
$80
(4 structures; 41 storeys; 420 units) 100 Fullarton St
Old Oak Properties
British Columbia
Victoria
Institutional
University of Victoria Student Housing & Dining Hall
345
$200
(1 structure; 11 storeys; 783 units) 3800 Finnerty Rd
University of Victoria
TOTALS:
7,413
$2,067
*A square footage measure does not apply for alteration and engineering work.
Data source and table: ConstructConnect – CanaData.
Trend lines of construction starts in Canada – July 2020
Moving totals of the latest 12 months*
(ConstructConnect Insight Forecast Figures)

*For example, the July 2020 figure is the sum of the monthly numbers for August 2019 through July 2020.
Data source and chart: ConstructConnect Insight – CanaData.
---
Interactive Visual
---
View this video to see how to use the filters in the Interactive Visual.
---