Top 10 Largest Construction Project Starts in Canada and Trend Graph - May 2020
The accompanying table records the 10 largest construction project starts in Canada in May 2020. Also included is the latest trend graph on starts. This looks at 12-month moving totals of the civil and non-residential building categories in Canada.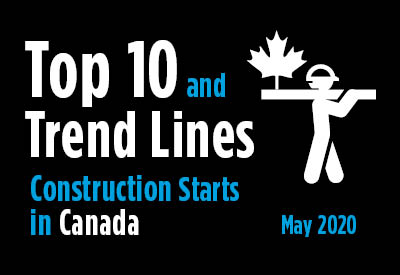 There are several reasons for highlighting upcoming large projects. Such jobs have often received a fair amount of media coverage. Therefore, people in the industry are on the lookout for when jobsite work actually gets underway. And, as showcase projects, they highlight geographically where major construction projects are proceeding.
Also, total construction activity is comprised of many small and medium-sized projects and a limited number of large developments. But the largest projects, simply by their nature, can dramatically affect total dollar and square footage volumes. In other words, the timing and size of these projects have an exaggerated influence on market forecasts.
Top 10 construction projects of the month - May 2020
REGION
(East to
West)
TYPE OF
CONSTRUCTION
DESCRIPTION

Sq. Ft.
000s

Dollars
000,000s

Nova Scotia
Thorburn
Engineering/Civil
Design Build Finance Operate and Maintain Highway 104 Sutherlands River to Antigonish
*
$718
(4 structures) NS-104
Nova Scotia Procurement
Ontario
Ottawa
Engineering/Civil
Trillium Line South Extension Project - Design-Build-Finance-Maintain
*
$663
(2 structures; 21 storeys) Multiple Locations
City of Ottawa
North York
Engineering/Civil
Highway 404 - Grading, Drainage, Granular Base, Hot Mix Paving, Electrical, ATMS and Structural
*
$48
(2 structures) Hwy 404 and Sheppard Ave E
Ministry of Transportation Ontario
Etobicoke
Industrial
Design Build Warehouse Building / Martin Grove Road in Etobicoke
367
$40
(3 structures; 1 storey) 1330 Martin Grove Rd
Carttera Private Equities Inc
Kingston
Residential
University Suites on Princess Street Rental Building - Building B
159
$29
(2 structures; 11 storeys; 195 units) 495 Princess St
Podium Development Corp
Manitoba
Winnipeg
Commercial
Royal Aviation Museum of Western Canada
86
$45
(1 structure; 1 storey) 2000 Wellington Ave
Western Canada Aviation Museum
Saskatchewan
Saskatoon
Residential
Baydo Towers
290
$100
(3 structures; 29 storeys; 426 units) 410 5th Ave N
Baydo Development Corportation
Alberta
Edmonton
Engineering/Civil
Yellowhead Trail - East Widening Construction
*
$30
(1 structure) Multiple Locations
City of Edmonton
Edmonton
Residential
Holyrood Gardens - Phase One
150
$30
(4 structures; 26 storeys; 1200 units) 8311 93 Ave NW
Regency Developments Ltd
Blackfalds
Commercial
Blackfalds Arena Expansion
82
$23
(4 structures; 4 storeys; 1480 units) 5302 Broadway Ave
Town of Blackfalds
TOTALS:
1,134
$1,726
*A square footage measure does not apply for alteration and engineering work.
Data source and table: ConstructConnect – CanaData.
Trend lines of construction starts in Canada – May 2020
Moving totals of the latest 12 months*
(ConstructConnect Insight Forecast Figures)
*For example, the May 2020 figure is the sum of the monthly numbers for June 2019 through May 2020.
Data source and chart: ConstructConnect Insight – CanaData.