Top 10 Largest Construction Project Starts in Canada and Trend Graph - November 2019
The accompanying table records the 10 largest construction project starts in Canada in November 2019. Also included is the latest trend graph on starts. This looks at 12-month moving totals of the civil and nonresidential building categories in Canada.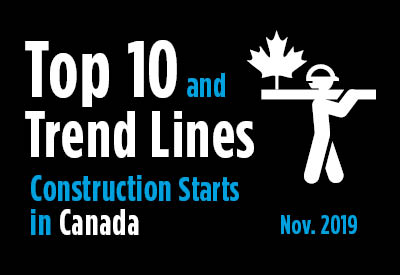 There are several reasons for highlighting upcoming large projects. Such jobs have often received a fair amount of media coverage. Therefore, people in the industry are on the lookout for when jobsite work actually gets underway. And, as showcase projects, they highlight geographically where major construction projects are proceeding.
Also, total construction activity is comprised of many small and medium-sized projects and a limited number of large developments. But the largest projects, simply by their nature, can dramatically affect total dollar and square footage volumes. In other words, the timing and size of these projects have an exaggerated influence on market forecasts.
Top 10 construction projects of the month - November 2019
REGION
(East to
West)
TYPE OF
CONSTRUCTION
DESCRIPTION

Sq. Ft.
000s

Dollars
000,000s

Ontario
Markham
Residential
Vendome Markham - Condominiums
780
$140
(2 structures; 18 storeys; 530 units) 1 Clegg Rd
H&W Developments
Toronto
Residential
Mirabella Condominiums - East and West Towers
622
$112
(3 structures; 38 storeys; 725 units) 1926 Lake Shore Blvd W
Diamante Development Corp
Burlington
Residential
Valera Apartment Buildings, Townhouses
345
$61
(2 structures; 10 storeys; 414 units) 4880 Valera Rd
ADI Development Group Inc
Concord
Residential
Charisma Condos - Phase One
270
$48
(3 structures; 26 storeys; 587 units) 8946 Jane St
Greenpark Homes
Manitoba
Winnipeg
Commercial
True North Square - Sutton Place Hotel & Residences
400
$67
(4 structures; 31 storeys; 418 units) 220 Carlton St
True North Sports & Entertainment/Northland Properties
Alberta
Fort McMurray
Industrial
Suncor - Coke Boiler Replacement Project
*
$1,400
(2 structures) AB-63
Suncor Energy Corporate Head Office
British Columbia
Hudson's Hop
Engineering/Civil
Highway Number 29 - Halfway River
*
$105
(1 structure) BC-29
BC Ministry of Transportation and Infrastruture
Richmond
Residential
Galleria Mixed Use Phase One - Da Vinci Collection
250
$46
(3 structures; 14 storeys; 165 units) 8555 Capstan Way
Concord Pacific
Mission
Residential
Wren + Raven Hillside Homes
223
$41
(4 structures; 4 storeys; 131 units) 31802 Hillcrest Ave
Elevate Development Corp
Maple Ridge
Residential
ERA in Maple Ridge Multi-Residential Development - Phase 1
200
$36
(2 structures; 6 storeys; 173 units) 22255 Dewdney Trunk Rd
SwissReal Group
TOTALS:
3,090
$2,056
*A square footage measure does not apply for alteration and engineering work.
Data source and table: ConstructConnect – CanaData.
Trend lines of construction starts in Canada – November 2019
Moving totals of the latest 12 months*
(ConstructConnect Insight Forecast Figures)

*For example, the November 2019 figure is the sum of the monthly numbers for December 2018 through November 2019.
Data source and chart: ConstructConnect Insight – CanaData.