Top 10 Largest Construction Project Starts in Canada and Trend Graph - October 2020
The accompanying table records the 10 largest construction project starts in Canada in October 2020. Also included is the latest trend graph on starts. This looks at 12-month moving totals of the civil and nonresidential building categories in Canada.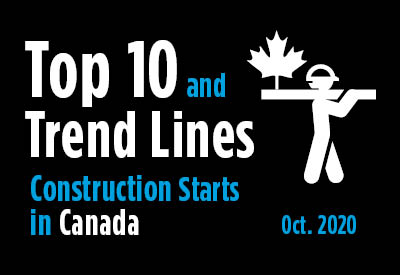 There are several reasons for highlighting upcoming large projects. Such jobs have often received a fair amount of media coverage. Therefore, people in the industry are on the lookout for when jobsite work actually gets underway. And, as showcase projects, they highlight geographically where major construction projects are proceeding.
Also, total construction activity is comprised of many small and medium-sized projects and a limited number of large developments. But the largest projects, simply by their nature, can dramatically affect total dollar and square footage volumes. In other words, the timing and size of these projects have an exaggerated influence on market forecasts.
Top 10 construction projects of the month - October 2020
REGION
(East to
West)
TYPE OF
CONSTRUCTION
DESCRIPTION

Sq. Ft.
000s

Dollars
000,000s

Nova Scotia
Halifax
Institutional
Design Build Finance Maintain QEII Bayers Lake Community Outpatient Centre
146
$100
(2 structures; 2 storeys) Susie Lake Cres
Nova Scotia Procurement - Dept of Internal Services
Quebec
Laval
Institutional
Construction of the New Chomedey Primary School
80
$30
(4 structures; 3 storeys) 5075, chem du Souvenir
Centre de Services Scolaire de Laval
Ontario
Mississauga
Engineering/Civil
East to West Diversion Sanitary Trunk Sewer, Contract 1
*
$121
(1 structure) Derry Rd W
Region of Peel
Etobicoke
Commercial
Regal Plaza Corporate Centre Airport East Holiday Inn Expansion
336
$104
(3 structures; 11 storeys; 205 units) 600 Dixon Rd
SAMM Developments
Toronto
Residential
Aqualuna at Bayside - Mixed-Use Rental Apartment (Final Phase)
313
$58
(4 structures; 17 storeys; 307 units) 64-86 Bathurst St south of King St
Hines
Mississauga
Industrial
Mississauga Lab Facility Expansion / Mississauga
60
$29
(1 structure, 2 storeys) 2620 Speakman Dr
Public Service and Procurement Canada
Alberta
Calgary
Residential
Place 10 Multi-Residential Development
700
$83
(1 structure; 35 storeys, 864) 524, 538-10 Avenue SW
Centron Construction Ltd
Grande Prairie
Institutional
New K-9 O'Brien Lake West School
86
$25
(1 structure; 2 storeys; 900 units) 6201 Tamarack Dr
Grande Prairie Roman Catholic Separate School District
British Columbia
West Kelowna
Residential
Ariva Retirement Community Multi Residential Condominiums
366
$100
(4 structures; 5 storeys; 200 units) Old Ferry Wharf Rd
Meiklejohn Architects Inc (Owner's Rep)
Sooke
Engineering/Civil
Highway No 14 Connie Road to Glinz Lake Road
*
$29
(6 structures) BC-14
BC Ministry of Transportation and Infrastructure
TOTALS:
2,087
$679
*A square footage measure does not apply for alteration and engineering work.
Data source and table: ConstructConnect – CanaData.
Trend lines of construction starts in Canada – October 2020
Moving totals of the latest 12 months*
(ConstructConnect Insight Forecast Figures)

*For example, the October 2020 figure is the sum of the monthly numbers for November 2019 through October 2020.
Data source and chart: ConstructConnect Insight – CanaData.
---
Interactive Visual
---
View this video to see how to use the filters in the Interactive Visual.
---