Top 10 Largest Construction Project Starts in Canada and Trend Graph - September 2019
The accompanying table records the 10 largest construction project starts in Canada in September 2019. Also included is the latest trend graph on starts. This looks at 12-month moving totals of the civil and non-residential building categories in Canada.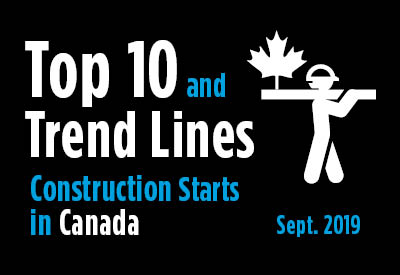 There are several reasons for highlighting upcoming large projects. Such jobs have often received a fair amount of media coverage. Therefore, people in the industry are on the lookout for when jobsite work actually gets underway. And, as showcase projects, they highlight geographically where major construction projects are proceeding.
Also, total construction activity is comprised of many small and medium-sized projects and a limited number of large developments. But the largest projects, simply by their nature, can dramatically affect total dollar and square footage volumes. In other words, the timing and size of these projects have an exaggerated influence on market forecasts.
Top 10 construction projects of the month - September 2019
REGION
(East to
West)
TYPE OF
CONSTRUCTION
DESCRIPTION

Sq. Ft.
000s

Dollars
000,000s

Quebec
Montréal
Residential
Solstice Condominium Apartment Building
260
$75
(3 structures; 45 storeys; 339 units) 1030, rue del a Montagne
Les Entrepreses QMD Inc
Montréal
Residential
Enticy Condos-Boutiques
215
$70
(2 structures; 23 storeys; 180 units) 1230, rue Mackay
Claridge Investment Ltd/Omnia Technologies Inc
Saint-Antonin
Engineering/Civil
Contract as a Result of Structural Qualification, from the A-85 (Bas-St-Laurent-Gaspésie-Îles-de-la-Madeleine)
*
$67
(2 structures) autoroute 85
Ministère des Transports, de la Mobilité durable et de l'Électrification des transports
Ontario
Whitby
Residential
Ivy Ridge - Mixed-Use Residential
350
$63
(2 structures; 2 storeys; 208 units) 3555 Thickson Rd
Minto Group Inc
Pelham
Industrial
CannTrust Expansion III Phase - Town of Pelham
390
$60
(1 structure; 1 storey) 1396 Balfour St
CannTrust
Manitoba
Dugald
Engineering/Civil
500kV Transmission Line Construction: Manitoba-Minnesota Transmission Line
*
$450
(1 structure) Dorsey Station to US Border
Manitoba Hydro
Northwest Territories
Whati
Engineering/Civil
Design Build Tlicho All-Season Road Project
*
$412
(1 structure) Multiple Locations
Government of the Northwest Territories
Alberta
Calgary
Institutional
Proposal-Construction Manager at Risk-Mathison Hall Haskayne School of Business
108
$60
(2 structures; 4 storeys) 2500 University Dr NW
University of Calgary
British Columbia
Vancouver
Institutional
University of British Columbia (UBC) Pacific Residences
395
$108
(1 structure; 10 storeys) Student Union Blvd
UBC Properties Trust
Coquitlam
Residential
Clarke + Como Apartment Buildings
417
$72
(3 structures; 50 storeys; 465 units) 567 Clarke Rd
Kevington Building Corporation/MARCON
TOTALS:
2,135
$1,437
*A square footage measure does not apply for alteration and engineering work.
Data source and table: ConstructConnect – CanaData.
Trend lines of construction starts in Canada – September 2019
Moving totals of the latest 12 months*
(ConstructConnect Insight Forecast Figures)

*For example, the September 2019 figure is the sum of the monthly numbers for October 2018 through September 2019.
Data source and chart: ConstructConnect Insight – CanaData.
---