Top 10 Largest Construction Project Starts in Canada and Trend Graph - September 2020
The accompanying table records the 10 largest construction project starts in Canada in September 2020. Also included is the latest trend graph on starts. This looks at 12-month moving totals of the civil and nonresidential building categories in Canada.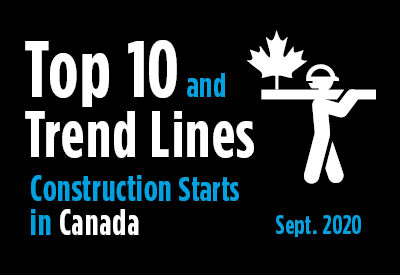 There are several reasons for highlighting upcoming large projects. Such jobs have often received a fair amount of media coverage. Therefore, people in the industry are on the lookout for when jobsite work actually gets underway. And, as showcase projects, they highlight geographically where major construction projects are proceeding.
Also, total construction activity is comprised of many small and medium-sized projects and a limited number of large developments. But the largest projects, simply by their nature, can dramatically affect total dollar and square footage volumes. In other words, the timing and size of these projects have an exaggerated influence on market forecasts.
Top 10 construction projects of the month - September 2020
REGION
(East to
West)
TYPE OF
CONSTRUCTION
DESCRIPTION

Sq. Ft.
000s

Dollars
000,000s

Ontario
Gogama
Engineering/Civil
Cote Gold Project
*
$900
(2 structures)
IAMGOLD Corportation
Mississauga
Residential
M City Community - Phase Three (M3)
1,300
$240
(4 structures; 82 storeys; 949 units) 3980 Confederation Pkwy
Urban Capital (Owner's Rep)
Toronto
Residential
The United BLDG - University Avenue Mixed-Use Condominiums
807
$150
(4 structures; 55 storeys; 759 units) 481 University Ave
DavPart
Ajax
Industrial
Amazon Distribution Centre / Ajax (Building A)
1,003
$120
(1 structure; 1 storey) Salem Rd & Rossland Rd E
Blackwell Partners (Developer)
Concord
Residential
CG Tower - Expo City Tower Five
510
$94
(3 structures; 60 storeys; 554 units) 2920 Hwy 7
The Cortel Group
Kingston
Engineering/Civil
Kingston Dock and Ontario Street - Grading, Drainage, Granular Base, Hot Mix Pavement, Electrical, Structural, Mechanical, Buildings, Facilities, Communications/IT, SCADA
*
$83
(4 structures) 55 Ontario St
Ministry of Transportation of Ontario
Saskatchewan
Pasqua
Engineering/Civil
Buffalo Pound Water Treatment Plant (BPWTP) Renewal Design-Build Services
*
$224
(2 structures) SK-301
Buffalo Pound Water Treatment
Alberta
Lac Ste. Anne County
Engineering/Civil
Cascade Power Project
*
$1,500
AB-47
Kineticor Resource Corp
Red Deer
Institutional
Red Deer Justice Centre
313
$140
(3 structures; 9 storeys) 4811 49 St
Alberta Infrastructure
British Columbia
Vancouver
Residential
Oakridge Centre Redevelopment - Phase 1 (Buildings 3 and 4)
936
$166
(6 structures; 74 storeys; 504 units) 688 W 41 Ave
Westbank Projects Corp/QualReal Property Group
TOTALS:
2,135
$1,437
*A square footage measure does not apply for alteration and engineering work.
Footnote: August's Canadian Top 10 list should have included $3.5 billion for the Alberta portion of the Keystone XL Pipeline project to the U.S. border, TC Energy.
Data source and table: ConstructConnect – CanaData.
Trend lines of construction starts in Canada – September 2020
Moving totals of the latest 12 months*
(ConstructConnect Insight Forecast Figures)

*For example, the September 2020 figure is the sum of the monthly numbers for October 2019 through September 2020.
Data source and chart: ConstructConnect Insight – CanaData.
---
Interactive Visual
---
View this video to see how to use the filters in the Interactive Visual.
---
---