Top 10 Largest Construction Starts in Canada and Trend Graph - July 2019
The accompanying table records the 10 largest construction project starts in Canada in July 2019. Also included is the latest trend graph on starts. This looks at 12-month moving totals of the civil and non-residential building categories in Canada.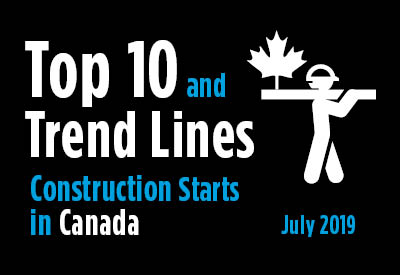 There are several reasons for highlighting upcoming large projects. Such jobs have often received a fair amount of media coverage. Therefore, people in the industry are on the lookout for when jobsite work actually gets underway. And, as showcase projects, they highlight geographically where major construction projects are proceeding.
Also, total construction activity is comprised of many small and medium-sized projects and a limited number of large developments. But the largest projects, simply by their nature, can dramatically affect total dollar and square footage volumes. In other words, the timing and size of these projects have an exaggerated influence on market forecasts.
Top 10 construction projects of the month - July 2019
REGION
(East to
West)
TYPE OF
CONSTRUCTION
DESCRIPTION

Sq. Ft.
000s

Dollars
000,000s

Quebec
Montréal
Commercial
Design/Build Three Transportation Centres Addition and Alterations
*
$177
(3 structures; 2 storeys) Multiple Locations
Société de Transport Montréal
Québec
Engineering/Civil
Centre de biométhanisation de la matière organique (CBMO) - Lot SP-009
*
$85
(1 structure) Boulevard Henri-Bourassa
Ville de Québec
Ontario
Kingston
Engineering/Civil
Design / Build Bridge - Third Crossing of the Cataraqui River / Kingston
*
$180
(2 structures) east side of Gore Rd and John Counter Blvd
City of Kingston
Scarborough
Engineering/Civil
Highway 401 - Grading, Drainage, Granular Base, Hot Mix Paving, Noise Barrier, Electrical, ATMS and Structures
*
$178
(2 structures) Multiple Locations
Ministry of Transportation of Ontario
Toronto
Commercial
St Lawrence Market - North Building
117
$92
(2 structure; 5 storeys) 92 Front St E
City of Toronto
Markham
Engineering/Civil
Highway 404 - Grading, Drainage, Granular Base, Hot Mix Paving, Electrical, ATMS and Structural
*
$90
(4 structures) ON-404
Ministry of Transportation of Ontario
Toronto
Residential
Canary Commons Condos: Block 12 Mixed-Use Revelopment
347
$70
(3 structures; 12 storeys; 400 units) 475 Front St E
DREAM Realty Management Corp/LDL
Alberta
Edmonton
Institutional
University of Alberta-Dentistry Pharmacy Building Core and Shell Development
*
$100
(3 structures) 11410 87 Ave NW
University of Alberta
British Columbia
Richmond
Engineering/Civil
YVR - Vancouver International Airport Central Utilities Building
64
$170
(2 structure; 3 storeys) Grant McConachie Way
Vancouver International Airport Authority
Port Moody
Residential
The Grande - Suter Brook Village Multi-Residential Development, Final Phase
430
$74
(2 structures; 26 storeys; 290 units) Capilano Rd
Onni Group of Companies
TOTALS:
958
$1,216
*A square footage measure does not apply for alteration and engineering work.
Data source and table: ConstructConnect – CanaData.
Trend lines of construction starts in Canada – July 2019
Moving totals of the latest 12 months*
(ConstructConnect Insight Forecast Figures)

*For example, the July 2019 figure is the sum of the monthly numbers for August 2018 through July 2019.
Data source and chart: ConstructConnect Insight – CanaData.