Top 10 Project Starts in the U.S. - April 2020
The accompanying table records the top 10 project starts in the U.S. for April 2020.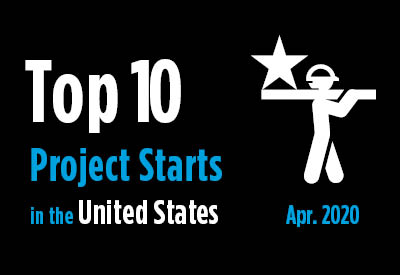 There are several reasons for highlighting upcoming large projects. Such jobs have often received a fair amount of media coverage. Therefore, people in the industry are on the lookout for when jobsite work actually gets underway. And, as showcase projects, they highlight geographically where major construction projects are proceeding.
Also, total construction activity is comprised of many small and medium-sized projects and a limited number of large developments. But the largest projects, simply by their nature, can dramatically affect total dollar and square footage volumes. In other words, the timing and size of these projects have an exaggerated influence on market forecasts.
Click here to download the Construction Industry Snapshot Package - April 2020 PDF.
Click here for the April 2020 Industry Snapshot article, April Nonresidential Construction Starts Sink Lower YTD, 16.7%.
Click here for the Nonresidential Construction Starts Trend Graphs - April 2020.
Top 10 project starts in the U.S. - April 2020
LOCATION
(East to
West)
TYPE OF
CONSTRUCTION
DESCRIPTION

Sq. Ft.
000s*

Dollars
000,000s

Massachusetts
Arlington
Institutional
Arlington High School - Town of Arlington
415
$291
(3 structures; 5 stories) 869 Massachusetts Ave
Town of Arlington
New York
Bayberry
Industrial
Project Eagle Distribution Facility / Clay
3,783
$350
(1 structure; 5 stories) Morgan Rd
Trammell Crow - Northeast Metro
South Carolina
Anderson
Industrial
Enterprise Logistics Park Phase I
289
$155
(2 structures) Hwy 86 and Blackman Rd
VanTrust Real Estate, LLC
West Virginia
Hinton
Civil/Engineering
Bluestone Dam Safety Assurance Project, Phase 5
*
$320
(1 structure) 701 Miller Ave
US Army Corps of Engineers - Huntington District
Winfield
Civil/Engineering
Upgrade to 4 Lane Road - US 35/i-64 I/C - Nitro I/C - US35 I64 to St. Albans IC
*
$224
(2 structures) US-35
West Virginia Department of Transportation (WVDOT)
Illinois
Chicago
Commercial
Salesforce Tower Chicago (Wolf Point South Tower)
1,510
$800
(1 structure; 60 stories) 333 W Wolf Point Plaza
Hines Midwest Regional Office
Missouri
Saint Louis
Institutional
Next NGA West (New Western Headquarters/National Geospatial-Intelligence Agency
1,854
$1,750
(1 structure) Jefferson Ave & Cass Ave
U.S. Army Corps of Engineers - Kansas City District
Creve Coeur
Civil/Engineering
MoDOT I-270 North Design-Build project
*
$246
(2 structures) I-270
Missouri Department of Transportation (MoDOT) - St. Louis District
Texas
Pflugerville
Industrial
Amazon Fulfillment Center - Project Charm / Pflugerville
3,800
$410
(1 structure; 4 stories) 2000 E Pecan St
Seefried Industrial Properties
Wharton
Civil/Engineering
US 59 - Upgrade to Rural Freeway
*
$169
(2 structures) US-59
Texas Department of Transportation / Austin
TOTALS:
11,651
$4,715
*A square footage measure does not apply for alteration, some forms of industrial (e.g., petrochemical) and engineering/civil work.
Data source and table: ConstructConnect.
About Alex Carrick
Alex Carrick is Chief Economist for ConstructConnect. He has delivered presentations throughout North America on the U.S., Canadian and world construction outlooks. Mr. Carrick has been with the company since 1985.
See Related Posts
Economic News, Industry Snapshot