Top 10 Project Starts in the U.S. - June 2020
The accompanying table records the top 10 project starts in the U.S. for June 2020.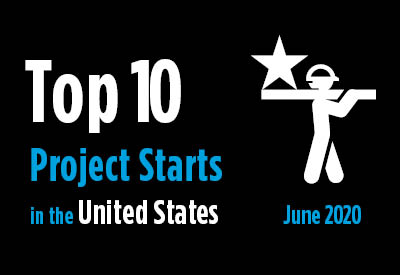 There are several reasons for highlighting upcoming large projects. Such jobs have often received a fair amount of media coverage. Therefore, people in the industry are on the lookout for when jobsite work actually gets underway. And, as showcase projects, they highlight geographically where major construction projects are proceeding.
Also, total construction activity is comprised of many small and medium-sized projects and a limited number of large developments. But the largest projects, simply by their nature, can dramatically affect total dollar and square footage volumes. In other words, the timing and size of these projects have an exaggerated influence on market forecasts.
Click here to download the Construction Industry Snapshot Package - June 2020 PDF.
Click here for the June 2020 Industry Snapshot article, 2020's H1 Nonresidential Construction Starts Down by Nearly a Quarter.
Click here for the Nonresidential Construction Starts Trend Graphs - June 2020.
Top 10 project starts in the U.S. - June 2020
LOCATION
(East to
West)
TYPE OF
CONSTRUCTION
DESCRIPTION

Sq. Ft.
000s*

Dollars
000,000s

Connecticut
New Haven
Institutional
Peabody Museum Of Natural History - Museum Renovation and Addition
45
$200
(2 structures; 4 stories) 170 Whitney Ave
Yale Peabody Museum of Natural History
New York
Liverpool
Industrial
Amazon Distribution Center / Liverpool
3,700
$280
(1 structure; 5 stories) 7209 Morgan Rd
Trammell Crow - Northeast Metro
Maryland
Silver Spring
Residential
Ripley II
437
$150
(3 structures; 30 stories; 440 units) 8210 Dixon Ave
Washington Property Company
Florida
Lake City
Civil/Engineering
I-10 Widening
*
$176
(3 structures) I-10
FDOT - District 2 - Asset Maintenance Lettings
Ohio
Columbus
Civil/Engineering
Buckeye XPress Project
*
$709
(2 structures) Multiple Locations
TC Energy
Texas
Richmond
Industrial
Project Miriam - Amazon Fulfillment Center
3,402
$221
(1 structure) 10507 Harlem Rd
Panattoni Development Co.
New Mexico
Albuquerque
Institutional
UNMH New Hospital Tower
570
$330
(2 structures; 96 beds) 2211 Lomas Blvd NE
University of New Mexico - Purchasing
Washington
Seattle
Civil/Engineering
Seattle Light Rail Development - Federal Way Link - Sound Transit
*
$1,400
(2 structures) Multiple Locations
Sound Transit
Renton
Civil/Engineering
I-405/Renton to Bellevue - Corridor Widening and Electronic Toll Lane
*
$705
(5 structures) I-405
Washington State Department of Transportation (WSDOT)
California
San Bernardino
Civil/Engineering
Design and Build the I-10 Corridor Contract 1 Project
*
$673
(2 structures) I-10
San Bernardino County Transportation Authority (SBCTA)
TOTALS:
8,154
$4,844
*A square footage measure does not apply for alteration, some forms of industrial (e.g., petrochemical) and engineering/civil work.
Data source and table: ConstructConnect.
About Alex Carrick
Alex Carrick is Chief Economist for ConstructConnect. He has delivered presentations throughout North America on the U.S., Canadian and world construction outlooks. Mr. Carrick has been with the company since 1985.
See Related Posts
Economic News, Industry Snapshot