Top 10 Project Starts in the U.S. - March 2020
The accompanying table records the top 10 project starts in the U.S. for March 2020.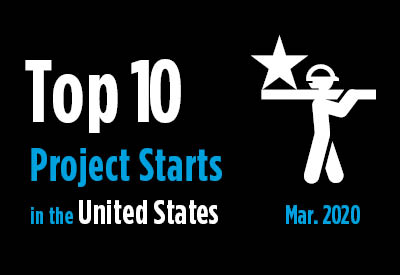 There are several reasons for highlighting upcoming large projects. Such jobs have often received a fair amount of media coverage. Therefore, people in the industry are on the lookout for when jobsite work actually gets underway. And, as showcase projects, they highlight geographically where major construction projects are proceeding.
Also, total construction activity is comprised of many small and medium-sized projects and a limited number of large developments. But the largest projects, simply by their nature, can dramatically affect total dollar and square footage volumes. In other words, the timing and size of these projects have an exaggerated influence on market forecasts.
Click here to download the Construction Industry Snapshot Package - March 2020 PDF.
Click here for the March 2020 Industry Snapshot article, Nonresidential Construction Starts -13.4% Ytd in Q1, But Where to Now?.
Click here for the Nonresidential Construction Starts Trend Graphs - March 2020.
Top 10 project starts in the U.S. - March 2020
LOCATION
(East to
West)
TYPE OF
CONSTRUCTION
DESCRIPTION

Sq. Ft.
000s*

Dollars
000,000s

New York

Flushing

Civil/Engineering

Rehabilitation of the Approach Viaducts at the Throgs Neck Bridge

*

$160

(4 structures) multiple locations

MTA - Triborough Bridge & Tunnel Authority

New Jersey

Camden

Civil/Engineering

Benjamin Franklin Bridge Rehabilitation of the Suspended Spans and Anchorages

*

$195

(4 structures) 6 Linden St

Delaware River Port Authority (DRPA)

Bellmawr

Civil/Engineering

Route 295 / 42, Missing Moves, Bellmawr, from Route I-295 to Route 55, New Ramp Construction, Grading, Paving and Structures

*

$180

(7 structures) multiple locations

New Jersey Department of Transportation (NJDOT) - Division of Procurement

Florida

North Miami

Civil/Engineering

Widening - NW 106th Interchange to I-75 Interchange

*

$369

(7 structures) multiple locations

FDOT - Turnpike Enterprise Office

Illinois

Bloomington

Civil/Engineering

McLean County Wind Energy Center Project

*

$300

(1 structure) multiple locations

Invenergy

Missouri

Saint Louis

Institutional

The Washington University School of Medicine Neuroscience Research Building

609

$616

(2 structures; 11 stories) 4370 Duncan Ave

Washington University School of Medicine

Colorado

El Paso County

Institutional

Repair Cadet Chapel, USAF Academy, Colorado Springs, CO

48

$158

(1 structure) 2306 Sijan Dr

US Air Force - Wright-Patterson Air Force Base

Utah

Salt Lake City

Civil/Engineering

New Water Reclamation Facility Project

*

$600

(1 structure) 1365 W 2300 N

City of Salt Lake City - Public Utilities

Draper

Residential

TriView Multi-Family Residential

75

$335

(2 structures; 835 units) 12620 Pony Express Rd

Triago

Arizona

Pheonix

Commercial

Talking Stick Resort Arena Renovation Phase 1A & 1B

*

$230

(2 structures) 201 E Jefferson St

City of Phoenix

TOTALS:
732
$3143
*A square footage measure does not apply for alteration, some forms of industrial (e.g., petrochemical) and engineering/civil work.
Data source and table: ConstructConnect.
About Alex Carrick
Alex Carrick is Chief Economist for ConstructConnect. He has delivered presentations throughout North America on the U.S., Canadian and world construction outlooks. Mr. Carrick has been with the company since 1985.
See Related Posts
Industry Snapshot