Top 10 Project Starts in the U.S. - May 2020
The accompanying table records the top 10 project starts in the U.S. for May 2020.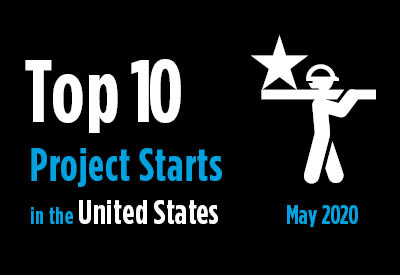 There are several reasons for highlighting upcoming large projects. Such jobs have often received a fair amount of media coverage. Therefore, people in the industry are on the lookout for when jobsite work actually gets underway. And, as showcase projects, they highlight geographically where major construction projects are proceeding.
Also, total construction activity is comprised of many small and medium-sized projects and a limited number of large developments. But the largest projects, simply by their nature, can dramatically affect total dollar and square footage volumes. In other words, the timing and size of these projects have an exaggerated influence on market forecasts.
Click here to download the Construction Industry Snapshot Package - May 2020 PDF.
Click here for the May 2020 Industry Snapshot article, May Nonresidential 'Starts' Almost Even M/M, but -1/2 Y/Y & -1/4 YTD.
Click here for the Nonresidential Construction Starts Trend Graphs - May 2020.
Top 10 project starts in the U.S. - May 2020
LOCATION
(East to
West)
TYPE OF
CONSTRUCTION
DESCRIPTION

Sq. Ft.
000s*

Dollars
000,000s

Maryland
College Park
Residential
College Park Southern Gateway Project
337
$150
(3 structures; 6 stories; 393 units) 7200 Baltimore Ave
Terrapin Development Company
Virginia
Virginia Beach
Civil/Engineering
Virginia OffShore Wind Technology Advancement Project
*
$300
Rifle Range Rd
Dominion Power - Corporate Office
North Carolina
McLeansville
Industrial
Publix Distribution Center / Jefferson (Greensboro)
940
$400
(1 structure; 1 story) US-70 & Birch Creek Rd
Carroll Companies
Florida
Jacksonville
Institutional
Mayo Clinic Jacksonville Expansion
120
$144
(2 structures; 6 stories) 4500 San Pablo Rd S
Mayo Clinic - Campus Planning & Projects - Jacksonville
Minnesota
Minneapolis
Commercial
Minneapolis Bus Garage
576
$120
(2 structures) 812 N 7th St
Metropolitan Council Environmental Services (MCES)
Texas
Taft
Industrial
Steel Dynamics Steel Mill / Sinton
1,000
$1,800
(1 structure) US-181 & TX-89
Steel Dynamics, Inc.
Sealy
Civil/Engineering
Widen Freeway
*
$185
(2 structures) I-10
Texas Department of Transportation / Austin
Washington
Federal Way
Civil/Engineering
Federal Way Link Extension (FWLE) Design Build
*
$2,500
(1 structure) Multiple Locations
Sound Transit
California
Calexico
Civil/Engineering
Modernization and Expansion of the Calexico West Land Port of Entry Phase 2A
*
$191
(6 structures) 200 E 1st St
US General Services Administration - Pacific Rim Region (9)
Chula Vista
Residential
Santa Venetia St Apartments
810
$112
(3 structures; 297 units) 1627 Santa Venetia St
Baldwin & Sons
TOTALS:
3,783
$5,902
*A square footage measure does not apply for alteration, some forms of industrial (e.g., petrochemical) and engineering/civil work.
Data source and table: ConstructConnect.
---
About Alex Carrick
Alex Carrick is Chief Economist for ConstructConnect. He has delivered presentations throughout North America on the U.S., Canadian and world construction outlooks. Mr. Carrick has been with the company since 1985.
See Related Posts
Economic News, Industry Snapshot