Top 10 Project Starts in the U.S. - August 2019
The accompanying table records the top 10 project starts in the U.S. for August 2019.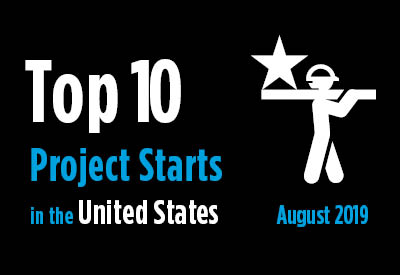 There are several reasons for highlighting upcoming large projects. Such jobs have often received a fair amount of media coverage. Therefore, people in the industry are on the lookout for when jobsite work actually gets underway. And, as showcase projects, they highlight geographically where major construction projects are proceeding.
Also, total construction activity is comprised of many small and medium-sized projects and a limited number of large developments. But the largest projects, simply by their nature, can dramatically affect total dollar and square footage volumes. In other words, the timing and size of these projects have an exaggerated influence on market forecasts.
Click here to download the Construction Industry Snapshot Package - August 2019 PDF.
Click here for the August 2019 Industry Snapshot article, Industrial and Civil Work Raised August Nonresidential Starts +9% vs July.
Click here for the Nonresidential Construction Starts Trend Graphs - August 2019.
Top 10 project starts in the U.S. - August 2019
LOCATION
(East to
West)
TYPE OF
CONSTRUCTION
DESCRIPTION

Sq. Ft.
000s*

Dollars
000,000s

Massachusetts
Boston
Institutional
Beth Israel Deaconess Medical Center Inpatient Building
1,759
$534
(1 structure; 10 stories; 158 beds) 111 Francis St
Beth Israel Deaconess Medical Center Facilities Department
Virginia
Alexandria
Commercial
WMATA Potomac Yard Metro Rail Station
200
$370
(2 structures; 3 stories) George Washington Memorial Pkwy
City of Alexandria - Purchasing
Florida
Orlando
Civil/Engineering
Virgin Trains (Formerly The Brightline Express) - Second Phase
*
$4,000
FL-528
All Aboard Florida LLC
Michigan
Detroit
Industrial
Fiat Chrysler Assembly Plant
791
$1,600
(1 structure) 4000 St Jean
Fiat Chrysler Automobiles
East China
Civil/Engineering
Blue Water Energy Center / East China Township
*
$1,000
(natural gas-fired power plant)
(1 structure) M-29
DTE Energy
Madison Heights
Civil/Engineering
I-75 Modernization Segment 3
*
$750
Michigan Department of Transportation (MDOT) - Metro Office
Illinois
Chicago
Civil/Engineering
The Red and Purple Modernization (RPM) Project Phase One
*
$2,100
Multiple Locations
Chicago Transit Authority (CTA)
Iowa
Des Moines
Civil/Engineering
Wind XII
*
$922
Electric Power Generation
Midamerican Energy
Texas
Corpus Christi
Industrial
ExxonMobil Ethane Cracker Plant
*
$10,000
(1 structure)
SABIC
Nevada
Reno
Industrial
North Valleys Commerce Center IV
1,357
$729
(1 structure) Virginia St & Stead Blvd
Panattoni Development
TOTALS:
4,107
$22,005
*A square footage measure does not apply for alteration, some forms of industrial (e.g., petrochemical) and engineering/civil work.
Data source and table: ConstructConnect.