Top 10 Project Starts in the U.S. - December 2019
The accompanying table records the top 10 project starts in the U.S. for December 2019.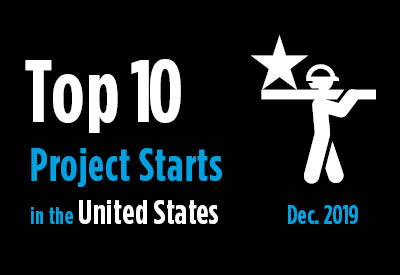 There are several reasons for highlighting upcoming large projects. Such jobs have often received a fair amount of media coverage. Therefore, people in the industry are on the lookout for when jobsite work actually gets underway. And, as showcase projects, they highlight geographically where major construction projects are proceeding.
Also, total construction activity is comprised of many small and medium-sized projects and a limited number of large developments. But the largest projects, simply by their nature, can dramatically affect total dollar and square footage volumes. In other words, the timing and size of these projects have an exaggerated influence on market forecasts.
Click here to download the Construction Industry Snapshot Package - December 2019 PDF.
Click here for the December 2019 Industry Snapshot article, December's Nonresidential Construction Starts -5% M/M but +9% Ytd.
Click here for the Nonresidential Construction Starts Trend Graphs - December 2019.
Top 10 project starts in the U.S. - December 2019
LOCATION
(East to
West)
TYPE OF
CONSTRUCTION
DESCRIPTION

Sq. Ft.
000s*

Dollars
000,000s

Massachusetts
Boston
Civil/Engineering
South Coast Rail - Phase I
*
$1,047
Multiple Locations
Massachusetts Bay Transportation Authority
North Carolina
Charlotte
Commercial
Terminal Lobby Expansion - Charlotte-Douglas International Airport
175
$500
(2 structures) 5501 Josh Birmingham Pkwy
Charlotte-Douglas International Airport
Georgia
Atlanta
Institutional
Emory University Winship Cancer Institute Tower
455
$475
(1 structure; 17 stories) 550 Peachtree St NE
Emory University
Texas
Kyle
Civil/Engineering
Permian Highway Pipeline Project (natural gas)
*
$2,000
(1 structure) Multiple Locations
Kinder Morgan Energy Partners
Arlington
Civil/Engineering
Cotton Belt Regional Rail (Silver Line)
*
$783
Dallas Area Rapid Transit (DART) - Procurement Department
Raymondville
Civil/Engineering
Big Raymond Wind Farm / Willacy County
*
$500
TX-186
E.On Climate and Renewables
Colorado
Colorado Springs
Industrial
Amazon Fulfillment Center - Project Rodeo / Colorado Springs
3,954
$1,000
(1 structure; 1 story) S Powers Blvd & Milton E Proby Pkwy
Trammell Crow Company Commercial Division
Wyoming
Hulett
Civil/Engineering
Equality Pipeline (crude oil)
*
$1,000
Bridger Pipeline
California
San Francisco
Civil/Engineering
Southeast Water Pollution Control Plant Biosolids Digester Facilities
*
$939
(2 structures) 750 Phelps St
San Francisco Public Utilities Commission
Los Angeles
Commercial
AC and Moxy Hotels at Fig + Pico Development
1,500
$454
(2 structures; 42 stories; 1153 units) 1240-1260 S Figueroa St & 601 W Pico Blvd
The Lightstone Group
TOTALS:
6,084
$8,698
*A square footage measure does not apply for alteration, some forms of industrial (e.g., petrochemical) and engineering/civil work.
Data source and table: ConstructConnect.
About Alex Carrick
Alex Carrick is Chief Economist for ConstructConnect. He has delivered presentations throughout North America on the U.S., Canadian and world construction outlooks. Mr. Carrick has been with the company since 1985.