Top 10 Project Starts in the U.S. - December 2020
The accompanying table records the top 10 project starts in the U.S. for December 2020.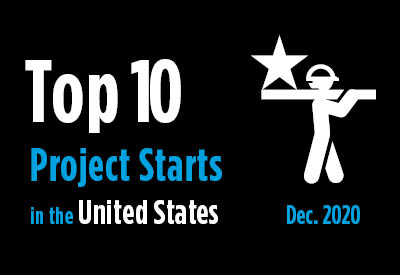 There are several reasons for highlighting upcoming large projects. Such jobs have often received a fair amount of media coverage. Therefore, people in the industry are on the lookout for when jobsite work actually gets underway. And, as showcase projects, they highlight geographically where major construction projects are proceeding.
Also, total construction activity is comprised of many small and medium-sized projects and a limited number of large developments. But the largest projects, simply by their nature, can dramatically affect total dollar and square footage volumes. In other words, the timing and size of these projects have an exaggerated influence on market forecasts.
Click here to download the Construction Industry Snapshot Package - December 2020 PDF.
Click here for the December 2020 Industry Snapshot article, Nonresidential Construction Starts Falter in December; Full Year 2020 -27% vs 2019.
Click here for the Nonresidential Construction Starts Trend Graphs - December 2020.
Top 10 project starts in the U.S. - December 2020
LOCATION
(East to
West)
TYPE OF
CONSTRUCTION
DESCRIPTION

Sq. Ft.
000s*

Dollars
000,000s

New York
Brooklyn
Residential
625 Fulton Street Mixed Use
1,800
$425
(7 structures; 79 stories; 1542 units) 625 Fulton St
The Rabsky Group
New Jersey
Jersey City
Institutional
New Hudson County Court Complex
400
$345
(4 structures; 5 stories) 595 Newark Ave
Hudson County Improvement Authority
Florida
Tampa
Civil/Engineering
I-275 Howard Frankland Bridge from North of SR 687 (4th Street North) to South of SR 60
*
$865
(5 structures) I-275
FDOT - District 7
Ohio
Columbus
Institutional
OSU Interdisciplinary Research Facility
305
$238
(2 structures; 5 stories) Kenny Rd and Lane Ave
Ohio State University - Facilities Design and Construction
Illinois
Dekalb
Commercial
Facebook Data Center / DeKalb
970
$800
(1 structure) 2050 Gurler Rd
Barge Design Solutions (Owner's Rep)
Minnesota
Duluth
Civil/Engineering
Twin Ports Interchange in Duluth - Construction Manager General Contractor (CMGC) Project
*
$343
(5 structures) Multiple Locations
Minnesota Department of Transportation (MnDOT)
Texas
Houston
Institutional
Horizon Tower - TAMU Health Plaza
587
$302
(4 structures; 30 stories) 6929 Main St
Medistar Corporation
California
Oakland
Civil/Engineering
Communications Based Train Control (CBTC) System
*
$798
Multiple Locations
Bay Area Rapid Transit (BART)
Chino
Civil/Engineering
RP-5 Liquids Treatment Expansion and RP-5 Solids Treatment Facility
*
$376
(1 structure) 6063 Kimball Ave
Inland Empire Utilities Agency Contracts and Procurement Dept.
Los Angeles
Residential
AVA Arts District
577
$375
(3 structures; 7 stories; 475 units) 668 S Alameda St
AvalonBay Communities
TOTALS:
4,639
$4,867
*A square footage measure does not apply for alteration, some forms of industrial (e.g., petrochemical) and engineering/civil work.
Data source and table: ConstructConnect.
---
Interactive Visual
---
View this video to see how to use the filters in the Interactive Visual.
---
---
About Alex Carrick
Alex Carrick is Chief Economist for ConstructConnect. He has delivered presentations throughout North America on the U.S., Canadian and world construction outlooks. Mr. Carrick has been with the company since 1985.
See Related Posts
Economic News, Industry Snapshot