Top 10 Project Starts in the U.S. - February 2020
The accompanying table records the top 10 project starts in the U.S. for February 2020.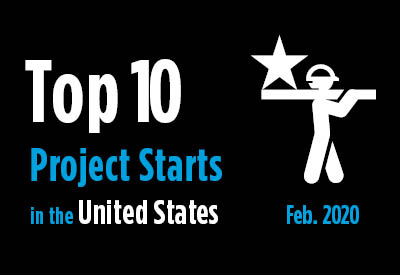 There are several reasons for highlighting upcoming large projects. Such jobs have often received a fair amount of media coverage. Therefore, people in the industry are on the lookout for when jobsite work actually gets underway. And, as showcase projects, they highlight geographically where major construction projects are proceeding.
Also, total construction activity is comprised of many small and medium-sized projects and a limited number of large developments. But the largest projects, simply by their nature, can dramatically affect total dollar and square footage volumes. In other words, the timing and size of these projects have an exaggerated influence on market forecasts.
Click here to download the Construction Industry Snapshot Package - February 2020 PDF.
Click here for the February 2020 Industry Snapshot article, A Weak February for Nonresidential Construction Starts, -25% M/M and -10% YTD.
Click here for the Nonresidential Construction Starts Trend Graphs - February 2020.
Top 10 project starts in the U.S. - February 2020
LOCATION
(East to
West)
TYPE OF
CONSTRUCTION
DESCRIPTION

Sq. Ft.
000s*

Dollars
000,000s

New Jersey
Clifton
Civil/Engineering
Route 3, Route 46 Valley and Notch/Rifle Camp Interchange Contract B
*
$154
(3 structures) multiple locations
New Jersey Department of Transportation (NJDOT) - Division of Procurement
Georgia
Macon
Civil/Engineering
Amerson Water Treatment Plant River Intake Traveling Screen #1 Rehabilitation
*
$175
(1 structure) 703 Riverbend Dr
Macon Water Authority
Florida
Dania Beach
Commercial
Spirit Airlines Corporate Headquarters / Campus
500
$250
(1 structure) 139 S Compass Way
Spirit Airlines, Inc.
Nebraska
Omaha
Commercial
Project Wizard - Google Data Center / Omaha
2,477
$600
(1 structure) Schram Rd and NE-50
Sarpy County Economic Development Corporation
Lincoln
Civil/Engineering
Lincoln South Beltway Bridges
*
$350
(5 structures) Multiple Locations
Nebraska Department of Roads (NDOR)
Arizona
Phoenix
Institutional
Valleywise Health Medical Center
673
$900
(1 structure; 10 stories; 233 beds) 2601 E Roosevelt St
Maricopa Integrated Health System (MIHS)
California
Burlingame
Commercial
Gateway at Millbrae Station
267
$400
(5 structures; 10 stories) Millbrae Ave & Rollins Rd
Republic Urban Properties / San Jose
Los Angeles
Residential
Eighth/Fig Downtown Mixed-Use Tower
424
$167
(5 structures; 48 stories; 438 units) 744 S Figueroa St
Mitsui Fudosan America - San Francisco Office
Washington
Seattle
Civil/Engineering
Ship Canal Water Quality Project - Tunnel Storage
*
$255
(2 structures) City of Seattle
Bellevue
Commercial
555 108th Avenue Office Tower
1,000
$215
(3 structures; 42 stories) 555 108th Ave NE
Vulcan Inc
TOTALS:
5,341
$3,466
*A square footage measure does not apply for alteration, some forms of industrial (e.g., petrochemical) and engineering/civil work.
Data source and table: ConstructConnect.
About Alex Carrick
Alex Carrick is Chief Economist for ConstructConnect. He has delivered presentations throughout North America on the U.S., Canadian and world construction outlooks. Mr. Carrick has been with the company since 1985.
See Related Posts
Economic News