Top 10 Project Starts in the U.S. - February 2021
The accompanying table records the top 10 project starts in the U.S. for February 2021.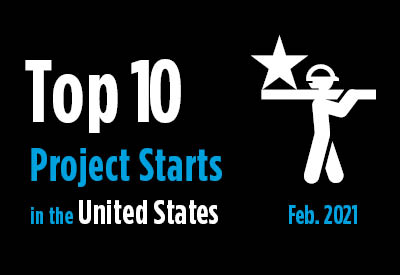 There are several reasons for highlighting upcoming large projects. Such jobs have often received a fair amount of media coverage. Therefore, people in the industry are on the lookout for when jobsite work actually gets underway. And, as showcase projects, they highlight geographically where major construction projects are proceeding.
Also, total construction activity is comprised of many small and medium-sized projects and a limited number of large developments. But the largest projects, simply by their nature, can dramatically affect total dollar and square footage volumes. In other words, the timing and size of these projects have an exaggerated influence on market forecasts.
Download the Construction Industry Snapshot Package - February 2021 PDF.
Check out the February 2021 Industry Snapshot article, February 2021 Nonresidential Construction Starts -30% Ytd vs 'Normal'
Check out the Nonresidential Construction Starts Trend Graphs - February 2021.
Top 10 project starts in the U.S. - February 2021
LOCATION
(East to
West)
TYPE OF
CONSTRUCTION
DESCRIPTION

Sq. Ft.
000s*

Dollars
000,000s

New York
New York
Residential
One Wall Street/New York
1,100
$1,500
(3 structures; 55 stories; 577 units) 1 Wall St
Macklowe Properties
New York
Residential
Broome Street Development - Phases 1& 2
400
$235
(3 structures; 30 stories; 378 units) 55 Suffolk St
Gotham Organization
Staten Island
Commercial
Staten Island 1 and 3 Garage - Phase 2 - Borough of Staten Island
*
$128
(2 structures) 1000 West Service Rd
NYC Department of Design and Construction (NYCDDC)
Pennsylvania
Lancaster
Institutional
Lancaster General Hospital ER Building Addition
81
$183
(1 structure; 100 units) 555 N Duke St
Lancaster General Hospital
Georgia
Atlanta
Institutional
RFQ D/B - CDC Building 108, Building 112A, Parking Deck 161B and Associated Infrastructure - Chamblee, Georgia
337
$201
(3 structures) 4770 Buford Hwy NE
Department of Health and Human Services - Procurement and Grants Office (Atlanta)
Tennessee
Nashville
Residential
Albion Nashville
1,012
$140
(3 structures; 20 stories; 415 units) 645 Division St
Marcus & Millichap
Missouri
Creve Coeur
Institutional
Mercy Outpatient Center/Creve Coeur
272
$158
(2 structures; 7 stories) 701 S New Ballas Rd
St. John's Mercy Medcal
California
Morgan Hill
Industrial
Butterfield 5 Technology Park
410
$220
(1 structure) Butterfield Blvd & Monterey Rd
Trammell Crow Company/CBRE
North Hollywood
Institutional
North Hollywood High School - Comprehensive Modernization
*
$200
(1 structure) 5231 Colfax Ave
Los Angeles Unified School District (LAUSD) - Facilities Department
Bakersfield
Institutional
Del Oro High School: Increment No 2
768
$133
(3 structures) 7501 E Panama Ln
Kern High School District
TOTALS:
4,380
$3,098
*A square footage measure does not apply for alteration, some forms of industrial (e.g., petrochemical) and engineering/civil work.
Data source and table: ConstructConnect.
---
Interactive Visual
---
View this video to see how to use the filters in the Interactive Visual.
---
About Alex Carrick
Alex Carrick is Chief Economist for ConstructConnect. He has delivered presentations throughout North America on the U.S., Canadian and world construction outlooks. Mr. Carrick has been with the company since 1985.
See Related Posts
Economic News, Industry Snapshot