Top 10 Project Starts in the U.S. - January 2020
The accompanying table records the top 10 project starts in the U.S. for January 2020.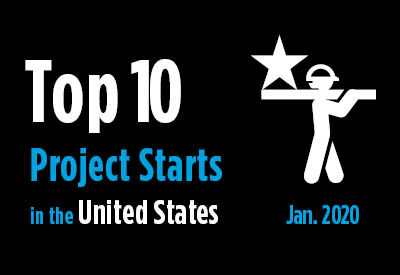 There are several reasons for highlighting upcoming large projects. Such jobs have often received a fair amount of media coverage. Therefore, people in the industry are on the lookout for when jobsite work actually gets underway. And, as showcase projects, they highlight geographically where major construction projects are proceeding.
Also, total construction activity is comprised of many small and medium-sized projects and a limited number of large developments. But the largest projects, simply by their nature, can dramatically affect total dollar and square footage volumes. In other words, the timing and size of these projects have an exaggerated influence on market forecasts.
Click here to download the Construction Industry Snapshot Package - January 2020 PDF.
Click here for the January 2020 Industry Snapshot article, January's Nonresidential Construction Starts -14% M/M and -11% YTD.
Click here for the Nonresidential Construction Starts Trend Graphs - January 2020.
Top 10 project starts in the U.S. - December 2019
LOCATION
(East to
West)
TYPE OF
CONSTRUCTION
DESCRIPTION

Sq. Ft.
000s*

Dollars
000,000s

New York
Astoria
Industrial
Court Square Office Renovation and Expansion
103
$240
(4 structures; 6 stories) 45-18 Ct Square W
King Street Properties LLC
Maryland
Bethesda
Institutional
P114 Medical Center Addition/Alteration (MCAA) At Naval Support Activity Bethesda
1,030
$570
(3 structures) 8901 Wisconsin Ave
Naval Facilities Engineering Command - Washington
Hillcrest Heights
Institutional
P-3021 Hangar 21, Joint Base Andrews, Camp Springs, MD
366
$298
(4 structures)
US Navy - Naval Facilities Engineering Command (NAVFAC) - Washington
Virginia
Ashburn
Commercial
Stonewall Secure Business Park - Project Kale Data Center
288
$600
(1 structure) Dulles Greenway
Google Inc. - Mountain View
Georgia
Atlanta
Commercial
Hilton Hotel Mixed-Use Development / Hartsfield Jackson Atlanta Int'l Airport
800
$300
(4 structures; 11 stories; 541 rooms) 6000 N Terminal Pkwy
Majestic Realty Co. - Atlanta / Commerce Construction Co. LP
Tennessee
Memphis
Industrial
Project Iris
4,200
$630
(3 structures; 5 stories) Hawkins Mill Rd
Seefried Industrial Properties - GA
Indiana
Gary
Commercial
Hard Rock Casino / Gary
210
$300
(2 structures; 1 story) 5400 W 29th Ave
Centaur Gaming / Spectacle Entertainment, LLC
Mississippi
Olive Branch
Industrial
Amazon Fulfillment Center - Legacy Park / Olive Branch
1,000
$350
(1 structure; 1 story) 11505 Progress Way
Hillwood Investment Properties
California
Los Angeles
Civil/Engineering
Automated People Mover (APM) - Landside Access Modernization Program at LAX
*
$2,000
1 World Way
Los Angeles World Airport - Administration Department
Los Angeles
Institutional
Los Angeles County Museum of Art - David Geffen Galleries
347
$490
(1 structure; 2 stories) 5905 Wilshire Blvd
LACMA
TOTALS:
8,344
$5,778
*A square footage measure does not apply for alteration, some forms of industrial (e.g., petrochemical) and engineering/civil work.
Data source and table: ConstructConnect.