Top 10 Project Starts in the U.S. - January 2021
The accompanying table records the top 10 project starts in the U.S. for January 2021.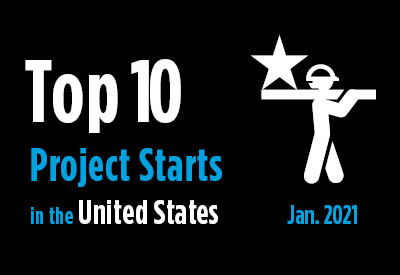 There are several reasons for highlighting upcoming large projects. Such jobs have often received a fair amount of media coverage. Therefore, people in the industry are on the lookout for when jobsite work actually gets underway. And, as showcase projects, they highlight geographically where major construction projects are proceeding.
Also, total construction activity is comprised of many small and medium-sized projects and a limited number of large developments. But the largest projects, simply by their nature, can dramatically affect total dollar and square footage volumes. In other words, the timing and size of these projects have an exaggerated influence on market forecasts.
Click here to download the Construction Industry Snapshot Package - January 2021 PDF.
Click here for the January 2021 Industry Snapshot article, January Nonresidential Construction Starts -28% Y/Y, But +19% M/M.
Click here for the Nonresidential Construction Starts Trend Graphs - January 2021.
Top 10 project starts in the U.S. - January 2021
LOCATION
(East to
West)
TYPE OF
CONSTRUCTION
DESCRIPTION

Sq. Ft.
000s*

Dollars
000,000s

Maine
Farmington
Civil/Engineering
Central Maine Power New England Clean Energy Connect Line
*
$1,000
(1 structure) ME-27
Central Maine Power Company
Rhode Island
Providence
Civil/Engineering
RFQ D/B - Combined Sewer Overflow Program - Phase III - Pawtucket Tunnel
*
$245
(1 structure) Multiple Locations
Narragansett Bay Commission
Georgia
Union City
Commercial
MAC V
1,150
$245
(1 structure) GA-403
Majestic Realty Co. - Atlanta / Commerce Construction Co. LP
Ohio
Batavia
Industrial
Nestle Purina PetCare Dry Pet Food Facility
1,200
$550
(2 structures) 4226 Half-Acre Rd
Nestle Purina Petcare Co - Main Office
Michigan
Midland
Industrial
Corteva Agriscience Dow Midland Operations Industrial Park, Alterations
*
$235
(2 structures) 693 Washington St
Dow AgroSciences / Corteva Agriscience
Indiana
Franklin
Civil/Engineering
I-69 Section 6 Contract 4
*
$346
(6 structures) Multiple Locations
Indiana Department of Transportation (INDOT)
Minnesota
Pinewood
Civil/Engineering
Line 3 Pipeline Renovation
*
$2,600
(1 structure) Multiple Locations
Enbridge Energy LP - Superior
Texas
New Hope
Civil/Engineering
Sister Grove Regional Water Resource Recovery Facility
*
$285
(1 structure) Trail Dr & Co Rd 336
North Texas Municipal Water District
California
Sacramento
Civil/Engineering
US 50 Multimodal Corridor Enhancement and Rehabilitation
*
$430
(2 structures) US-50
Caltrans - District 3
Beaumont
Institutional
Beaumont High School Expansion - Beaumont Unified School District, Addition/Alterations
100
$300
(2 structures) 39139 Cherry Valley Blvd
Beaumont Unified School District
TOTALS:
2,450
$6,236
*A square footage measure does not apply for alteration, some forms of industrial (e.g., petrochemical) and engineering/civil work.
Data source and table: ConstructConnect.
---
Interactive Visual
---
View this video to see how to use the filters in the Interactive Visual.
---
---
About Alex Carrick
Alex Carrick is Chief Economist for ConstructConnect. He has delivered presentations throughout North America on the U.S., Canadian and world construction outlooks. Mr. Carrick has been with the company since 1985.
See Related Posts
Economic News, Industry Snapshot